Proper Questioning For Dalvin Cook And Alvin Kamara, Lynch Clashing & "Big, Bad Media" — Ira Kaufman's Monday Column
February 27th, 2017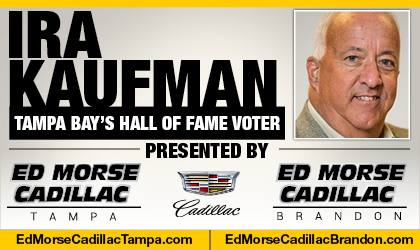 BY IRA KAUFMAN
In a couple of days, Dirk Koetter and Jason Licht will stand at a podium in Indianapolis and address the so-called enemies of the people.
That's right, we're talking about the big, bad media.
Licht and Koetter will field questions from a horde gathered at the Indiana Convention Center for the NFL Scouting Combine, where 330 prospects will be poked and prodded by teams looking to hedge their draft bets.
Information is king heading into the draft, but don't expect much intel dropped by the Buccaneer brain trust Wednesday.
Koetter and Licht will talk in general terms about the depth of the 2017 draft. What they won't do is tip their hand.
Sorry, media. It's not personal, it's strictly business.
The Buc contingent is flying to Indy on a mission — find out everything possible about these prospects and adjust the preliminary draft board accordingly.
That means tough character questions for running back Dalvin Cook and a rigorous medical exam for wide receiver Corey Davis.
Each club is allowed to conduct private 15-minute interview sessions with up to 60 players.
The Bucs want to know if Leonard Fournette is willing to make the sacrifices necessary to be great. They will question Christian McCaffrey's mental toughness and the selflessness of Alvin Kamara.
Access Skepticism
In their continuing efforts to get fans involved in big-time events, the NFL is opening the combine to the public, granting access to drills and press conferences.
Not every NFL executive is thrilled with this more inclusive approach.
"I don't want it to become a marketing opportunity that supersedes the necessary football business that has to happen in that seven-day period," says Steelers GM Kevin Colbert. "There's so much work that gets done, because to get 330 physicals and visits, if we didn't do it in that setting, it would be impossible. We can't lose sight of the fact that it's football first, entertainment second."
This will be the second time around for the Koetter-Licht tandem, and they know exactly what they're looking for. As any Buc fan will tell you, find a few playmakers for Jameis Winston and add another dynamic defensive lineman to the mix.
Free agency will undoubtedly help shape Tampa Bay's draft board, but even if the Bucs sign a DeSean Jackson or Alshon Jeffery, they need to groom another speedy young target opposite Mike Evans.
"You can't have enough playmakers," says new Rams coach Sean McVay. "Certainly, that's something that we're always looking to upgrade. That receiver position is very important —  a lot of yards and offensive production goes through that room."
Simple Search
Licht and Koetter are sure to cross paths with new 49ers GM John Lynch, who is trying to revive a franchise that has lost 31 of its last 45 games. San Francisco is armed with 10 picks, including the No. 2 overall choice, and the cash-flush 49ers could end up competing against the Bucs for several prominent free agents.
Those private grilling sessions can be a critical part of the process, but there are limitations. Last year, Falcons assistant coach Marquand Manuel asked defensive back prospect Eli Apple if he "liked men."
When the story went public, Manuel apologized and attended an individual counseling session.
Recently promoted to defensive coordinator, Manuel is headed to the NFL's La La Land this week to prove he now has a firm grasp of the combine's ground rules.
For Licht and Koetter, the protocol is simple.
You don't ask if a prospect likes men.
You ask if they love football.