Alex Smith & Drew Brees Talk Jameis
February 8th, 2017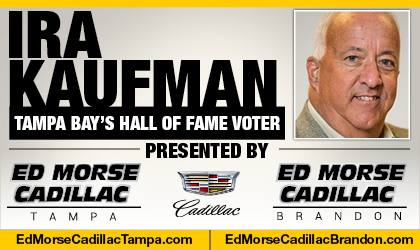 BY IRA KAUFMAN
Seven seasons have gone by since Drew Brees caressed the Vince Lombardi Trophy and it's safe to say he's got the seven-year itch.
A first-ballot Hall of Famer, Brees is still going strong at the age of 38. I caught up with him at the Pro Bowl in Orlando and asked him to assess the state of the NFC South.
The division has produced the past two league MVPs and the past two conference representatives in the Super Bowl. Meanwhile, the Saints have tread water and the Bucs appear to be a franchise on the rise under Jameis Winston.
"I feel like we're a few pieces away," said Brees, the only QB to throw for more than 5,000 yards this season. "We had our moments, but not enough of them. We're not consistent enough, but we know what it takes because we still have some guys from that Super Bowl team. We also know we play in a tough division."
In the most important game of Tampa Bay's season, Brees shredded the Bucs for 299 yards in a 31-24 triumph at the Superdome. In retrospect, had the Bucs prevailed in New Orleans, they would have earned a Wild Card berth.
"Carolina is last year's Super Bowl participant from the NFC and now we've got Atlanta," Brees said. "Atlanta has done as good a job as anybody in terms of playing complementary football. And then there's Tampa. With Jameis, they're looking to make a run in this division, and why not? They've got a lot of talent on that team."
Collapse Aftermath
In the wake of Sunday's Super Bowl collapse, the Falcons already have undergone a makeover.
Kyle Shanahan, mastermind behind the NFL's No. 1 scoring attack, will try to resurrect the 49ers as a first-year head coach, working with new GM John Lynch. Good luck with that.
Atlanta QB coach Matt LaFleur appears headed to the Rams as offensive coordinator and Falcons head coach Dan Quinn has already jettisoned defensive assistants, including coordinator Richard Smith.
That's what happens after you surrender a 28-3 lead with 17 minutes remaining on the NFL's biggest stage.
The Falcons have a solid young nucleus and I don't expect them to suffer from a Super Bowl hangover, but we don't know how the departure of Shanahan will affect Ryan. Shanahan's replacement, Steve Sarkasian, has limited NFL experience, serving as Oakland's QB coach when the Raiders went 5-11 in 2004.
Chief Buc
In contrast, the Bucs boast continuity heading into the 2017 season. Winston may still be the No. 4 quarterback in the division, but he's certainly on a positive trajectory at the age of 23.
"I've been so impressed with Jameis," says Chiefs quarterback Alex Smith, noting Winston's poise during a 19-17 victory at Arrowhead in November. "They give him a lot on his plate and he is proving he can handle everything they throw at him. There's no doubt the Bucs put a lot on him as a young player. What surprises me the most are the plays he makes with his feet. Look out for Tampa. They're a really talented team with a bright future."
After setting an NFC record with five consecutive seasons spent in a division basement, the Bucs broke through last year. They have money to spend and a 9-7 record to lure free agents to an NFL destination that was considered a dead end for many years.
"It looks like the pieces are falling together in Tampa," says Chiefs All-Pro tight end Travis Kelce. "When Jameis gets it going, it's an exciting offense to watch. He's a smart kid and he's quite a competitor. If I was a player on one of the other teams in that division, I'd be keeping a close eye on what's going on down in Tampa."