Righting "A Travesty"
February 10th, 2017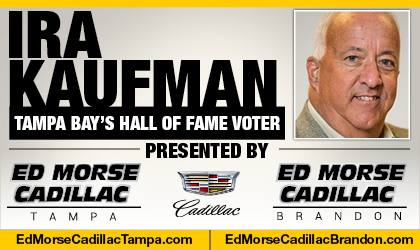 BY IRA KAUFMAN
There's been a lot of chatter about the Pro Football Hall of Fame Class of 2017, so let me add a little more controversy.
Where the heck is Simeon Rice?
The fact Jason Taylor just got in as a first-time eligible player has to enrage Rice, who turns 43 in two weeks. Ironically, Taylor's pathway to the Hall was cleared because John Lynch and Brian Dawkins took votes away from each other after each made the initial cut from 15 nominees to 10.
Taylor, who ranks seventh on the all-time takedown list with 139.5, essentially sacked Lynch.
Many of the 48 selectors in that Houston conference room were surprised Taylor made it through. I dare say Taylor himself didn't expect to be fitted for a gold jacket after his first time in the room.
Setting "The Mold"
With eight double-digit sack seasons and ranking 19th on the league's career sack list with 122, Rice isn't getting any traction among Hall of Fame voters. The dynamic right defensive end hasn't even made the list of 25 semifinalists that comes out every November.
That's a travesty.
Buc fans know the impact Rice made in Tampa after signing as a free agent from Arizona in 2001. A year later, Rice was a key component on one of the great defenses of the modern era.
After sacking Jeff Garcia and Donovan McNabb once each in the NFC playoffs, Rice dropped Rich Gannon twice in the Super Bowl. He could easily have been named MVP as Jon Gruden hoisted that Vince Lombardi Trophy.
Where is the love for No. 97?
"I know I was a Hall-of-Fame player," Rice told the Talk of Fame Network. "If I could do it all over again and have a career like (I had), I would. I ushered in a whole other level of defense, with the Jason Taylors and Jevon Kearses and Dwight Freeneys … all those hybrid, fast-speed guys. I was the first one. And then that was the mold. And they looked for those guys after that."
Rice was a master of the sack-and-strip move, closing in from the quarterback's blind side and chopping the ball free. He finished his career with 28 forced fumbles and Rice reached the 100-sack plateau faster than any player besides Reggie White.
New Campaign Coming
Things didn't end well for Rice in Tampa as he was released in 2007 training camp, following shoulder surgery. The Bucs were heavily criticized for the move, but they knew what they were doing because Rice was effectively done.
Warren Sapp was a great player before Rice became a Buc, but his job got significantly easier once Rice arrived because offensive coordinators had another force to worry about up front.
"Simeon was a better rusher than Michael Strahan any day of the week," Sapp said, "and twice on Sunday."
With Strahan and Taylor already boasting busts in Canton, it's time to hear the case for Simeon Rice. The Glazers can't understand why Rice isn't generating more respect from Hall of Fame selectors and I'm planning a campaign in the fall designed to bring Rice's accomplishments to the minds of Hall voters.
Rice has been eligible for the Hall since 2013 — but it's been crickets for five years. According to Simeon, the Canton shrine isn't complete without his powerful presence.
I'm sure most Buc fans would agree.
You couldn't miss Simeon Rice's chiseled 6-foot-5 frame on a football field, yet voters keep overlooking his resume.
Give the man his day in Hall of Fame court.