Dan Fouts Blesses Jameis; Draft Lessons Linger
February 15th, 2017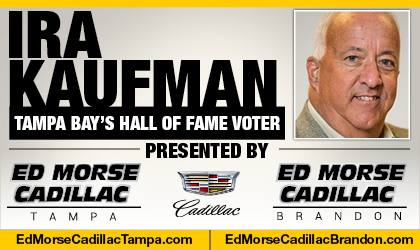 BY IRA KAUFMAN
Draft and develop.
It's been 80 years since the start of the NFL draft — and not everything has changed. The key to being a consistent winner remains the accumulation of talented players and a coaching staff that can maximize talent.
That brings us to the 2017 Tampa Bay Buccaneers, coming off a 9-7 season and eager to take that next step toward long-term success.
While gains made in free agency and the draft will be essential this fall, let's not forget that the biggest factor in ending a nine-year playoff drought rests with the continued development of young talent already on the roster.
Let's start at the top with third-year quarterback Jameis Winston, who holds himself to high standards. Winston's natural leadership skills are impressive, but even his most ardent fans realize he must make better decisions in the pocket.
Throwing 18 interceptions won't be acceptable next season, and Winston is the first to realize he must work on his mechanics and field vision.
"As a team, we've turned it over too much," says Dirk Koetter, "Not all interceptions are the quarterback's fault, some are more than others. In general, we've turned it over too much on offense. And every turnover has the ultimate culprit … sometimes that's me. The possession of the ball is the most important thing."
Nod From A Legend
Winston is far from a finished product, but he has made quite an impression in 32 starts. I sat near quarterback Dan Fouts during the Hall of Fame meeting in Houston earlier this month, and he has been won over by the first overall pick in the 2015 draft.
"Winston has a very bright future in this league," said the Hall of Fame quarterback. "He does a lot of things you can't teach and he'll work on his weaknesses to get even better."
A better season by Roberto Aguayo wouldn't hurt, either. That is if he can hold on to his kicking job in Year 2.
Aguayo made 16-of-20 FG attempts after Week 6 and converted his final 19 PAT tries, but there were too many missed field goals overall. The second-round pick was 4-for-11 from 40 yards and beyond, and the Bucs were last in the NFL in a critical category.
"Our field goal percentage this year is not good enough," Koetter said. "Jason (Licht) and I have already talked and I think it's already proven that we have no problem moving on from a draft choice and playing somebody that wasn't drafted."
Growth Classes
Left tackle Donovan Smith, Tampa Bay's second choice behind Winston in 2015, took all 1,138 snaps last year. He's done a decent job protecting Winston's blind side for two seasons, yet some Buc fans can't wait to move him over to the right side.
That's a reach.
If Smith was going to play right tackle, Licht wouldn't have taken him with the 34th overall pick.
After being called for six false starts and four holding penalties during his second season, Smith knows there is work to be done before offensive line coach George Warhop lightens up on him.
If Smith sharpens his technique, then it will go a long way toward returning Tampa Bay's offense to the prominence it showed in 2015.
On defense, Noah Spence, Kwon Alexander and Vernon Hargreaves show are plenty promising, but all three need to grow into their roles. One look at a franchise like New England reveals the importance of developing young talent.
"I know I can do a lot better," says Spence, who ranked third on the Bucs with 5.5 sacks. "I'm going to go all out in the offseason to try so I can come back next year when I know I can be something."
Alexander is already something at middle linebacker, topping the NFL with 108 solo tackles. He closed with a rush — 21 stops at Dallas and 10 apiece against the Saints and Panthers.
Yet the Bucs weren't nearly stout enough against the run last year, yielding an average of 4.4 yards per carry while ranking 13th in NFC rushing defense. Too many of Alexander's stops came well downfield, so he has to learn how to diagnose plays more quickly.
Rookie Hargreaves was a willing tackler, turning in a solid rookie season. But the advanced ball skills he demonstrated with the Gators were rarely on display in 2016 as he finished with only one interception.
Hargreaves will continue to learn how to be a solid pro by observing Brent Grimes. In a league that makes it particularly hard on cornerbacks, Hargreaves has a chance to become a star.
Draft and develop; that's the ticket.
Always has been, always will be.