Accurate Jameis
February 27th, 2017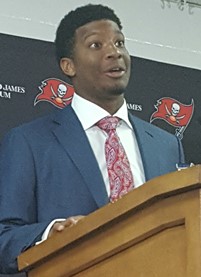 Who says Jameis Winston is inaccurate?
"So many times," as Phil Simms would say, Joe reads comments on this website claiming America's Quarterback is inaccurate, especially throwing the deep ball.
It makes Joe chuckle.
Joe will never forget visiting friends in Pittsburgh on a Labor Day Weekend a few years ago to watch the Cardinals-Pirates weekend series, a pivotal match-up between two teams fist-fighting for first place in the National League Central.
That same holiday weekend, Florida State just happened to be playing at Pitt. What the hell, Joe thought, go to the game! So Joe and a buddy from the Steel City headed to Heinz Field and that very night, Joe, his friend, as well as the nation, were introduced to Jameis, who damned near pitched a perfect game in his college debut, throwing only two incompletions.
When a guy throws twice as many touchdowns as incompletions in a game, Joe will never ever call that "inaccurate."
And now, here comes the PFF tribe. From the fingertips of Eliot Crist comes data that suggests Jameis is anything but inaccurate. And when targeting receivers running a specific route, no quarterback — not Tom Brady, not Aaron Rodgers — is more accurate than Jameis. They would be crossing routes.
Winston dominated defenses when targeting crossing routes. He completed 36 of 50 passes for 529 yards, with 6 touchdowns and a 145.8 QB Rating. Winston's impressive 72-percent completion percentage came while having the fourth-highest aDOT in the league of 10.92 yards. On passes over 25 yards, he completed all 4 to different receivers for 137 yards; 2 went for touchdowns.
Well, what do you know, Jameis is elite throwing deep crossing routes? And here folks bellyache how Jameis can't hit deep balls. Hhhmmm?
Seems like some folks have some 'splaining to do.