The War On John Lynch
January 8th, 2017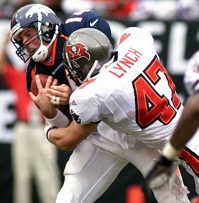 Something rotten is in the air, and it's being spread by Peter King of Sports Illustrated and NBC Sports Fame.
Bucs fans know very well that iconic safety John Lynch is a fourth-time finalist again for the Pro Football Hall of Fame. The annual convening and vote by the esteemed panel is the day before the Super Bowl in Houston.
The Tampa Bay area has one voting representative. He's JoeBucsFan.com columnist Ira Kaufman, who will make the case (again) for Lynch.
But it's not as simple as presenting a player. There's plenty of politics involved. And Joe is troubled and worried.
King, a big national voice who does loads of national interviews and has plenty of pull, seems to be lobbying for first-time Hall finalist Brian Dawkins, the big-time Eagles safety who retired in 2011.
Check out King's Tweet below:
Wide open. LT, and then great candidates. Hope we advance the cause of under-repped position, safety, this year w/men like Brian Dawkins. https://t.co/BvpEvARCHE

— Peter King (@SI_PeterKing) January 5, 2017
Joe sees that as King pitching Dawkins to his 1.8 million Twitter followers. How it could it be viewed differently? And does that mean King will pass on Lynch?
Listeners of The Ira Kaufman Podcast (with Joe and Ira) know that Kaufman believes Lynch seriously needs to get in the Hall this year because of guys like Randy Moss, Ray Lewis and Brian Urlacher eligible next season, in addition to Ronde Barber and others.
Joe doesn't like the smell of King's Tweet, and Kaufman should be inhaling it and planning accordingly.