Talking 2017 Bucs With Tony Dungy
January 13th, 2017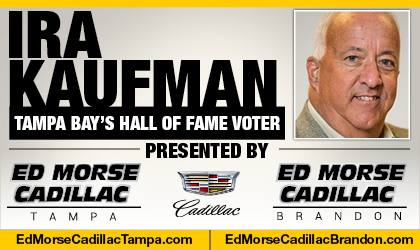 Tampa Bay's only Hall of Fame voter pens columns for JoeBucsFan.com Mondays, Wednesdays and Friday, and churns out his popular podcasts Tuesdays and Thursdays. Enjoy as Ira shares some of his chat today with Tony Dungy.
BY IRA KAUFMAN
I had the pleasure of Tony Dungy's company at breakfast Friday morning for an in-depth discussion about John Lynch's demanding role in that iconic Buc defense.
More on that subject in later columns, but I also had the opportunity to get a Hall of Fame coach's thoughts on the current state of the Buccaneers and Jameis Winston's leadership skills.
What was the biggest surprise of our meeting? A sportswriter picked up the check.
Dungy, who still lives in Tampa, now serves as an NFL analyst for NBC, working with Rodney Harrison and Mike Tirico to break down games. He pays particularly close attention to the Bucs, who just posted their first winning season since 2010.
"I thought the Bucs did exactly what the plan called for when they got Jameis," Dungy said. "They said they were going to build the offense around him and then build the defense. I thought the defense came around very well this year.

"To me, the Bucs are right there. They beat Kansas City at Arrowhead and they beat Seattle, so they know they can compete at the highest level — and that's the first step. It would have been great to have beaten Dallas or New Orleans in December, but they are right on the doorstep."
Buc fans are eagerly anticipating free agency and the draft, hopeful to fill holes on a club that vaulted from the NFC South basement to second place.
"It's going to take a little maturing, which will come, and a couple of more game-changing players," Dungy said. "One guy on each side of the ball who can turn a game around. I think the players will embrace the raised expectations. They will be fired up in the offseason with the realization that from Game 1, we can't let a game get away."
Wallets Ready
We've seen a rise in Buc fever around town, but ticket sales at Raymond James Stadium remain a tough sell.
"I think the fans are a year away," Dungy said. "They seen we've got something good going here, but prove it to me. They've been disappointed for so long, but if the Bucs get off to a good start, you'll see fan interest really take off."
Winston turned 23 last week and his stature as the face of this franchise is not open for debate.
"Jameis is a natural," said Dungy. "From Day 1, his teammates have embraced his leadership. Everybody respects how much work he puts in, how much he loves the game. I can tell from talking to Gerald McCoy and some of the other defensive guys how much they respect Jameis."
Adjusting Focus
Dungy applauded the move of granting defensive coordinator Mike Smith an extension.
"They've got some good young building blocks on defense," he said. "Now they need to get to the point where they know each other so well, they can spend all their focus on the other team. What they did this year was phenomenal. The next step is to grow into a cohesive unit.

"Mike Smith is very sound. His defenses have always been steady. If they stay the course with this system, they will get better and better."
Now comes the challenge of taking the next step, progressing from a 9-7 club to a perennial playoff participant.
"All of a sudden, the Bucs will be getting national TV games," Dungy said, "You're not sneaking up on anybody and your schedule gets a little tougher. People aren't circling you as a victory anymore. It's harder than you think. The 2017 Bucs are going to have to raise their level … we'll see if they're up to it."