PODCAST: Don't Fear Free Agency, Embrace it!
January 23rd, 2017
Podcast: Play in new window | Download | Embed
Subscribe: RSS
*Welcome to the most popular Buccaneers podcast on the planet! Tens of thousands download Bucs Uncensored every Monday, Wednesday & Saturday with "The Commish," Justin Pawlowski. A host on the USF Bulls Football Radio Network, and once a voice on the Buccaneers Radio Network, WDAE-AM 620 and 98.7 THE FAN, Justin shares his addictive brand of Bucs talk only here at JoeBucsFan.com! Bucs Uncensored uncovers all things Bucs and shares real fan takes. (Email your audio to BucsUncensored@gmail.com).  Follow Justin on Twitter! (@CommishOnline). Listen above or subscribe to Bucs Uncensored on iTunes right here. *Beware, podcast contains some bad words.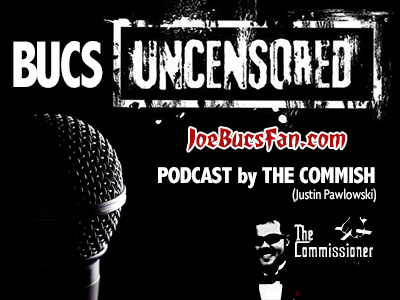 PRESENTED BY