Has Noah Spence Arrived?
January 1st, 2017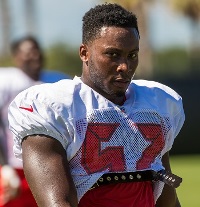 For a while there, Noah Spence was beginning to look every bit the part the Bucs thought he might play: feared pass rusher.
Joe even told Spence after the Seattle game that he just might get to 10 sacks if he wasn't careful.
Joe must have jinxed the rookie because Spence has been pretty much a non-factor since. But there is a reason, Bucs defensive coordinator Mike Smith said last week. Opponents are now scared of Spence and, as a result, he is being targeted by teams to keep him away from quarterbacks.
"I believe that they're giving more resources, they're turning the protection at times," Smith said of offenses now game-planning against Spence. "There's ways to slow pass rushers down and I think that the type of month that he had in November, guys were watching the tape and going, 'Gosh, we need to put chip help or we need to put a tight end over on that side.' So that has happened and again, each week it's a different dynamic."
Just like any rookie, Spence is learning. Remember, he's playing with a bum shoulder, too. (Perhaps that's why the Bucs barely played him last weekend?) The NFL is all about adjustments and Spence is still learning.
He's flashed enough to whet Joe's appetite for sacks. And if teams are game-planning for him, Spence must be doing something right, or else teams wouldn't waste valuable time and resources.