Mike Evans Names His Two Offseason Goals
January 31st, 2017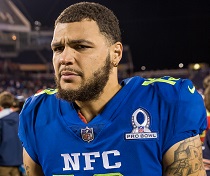 Yes, Mike Evans talked to Joe about his two primary offseason goals.
And the red-flag crowd might have a new obsession.
To cut right to it, Evans reiterated after a Pro Bowl practice that he's sure he can improve significantly on his 96-catch, 12-touchdown season in 2016. Whoa!
And Evans added, "I just want to be more durable, more explosive." He also talked about being healthy and ready for the playoff grind and taking more of an extended-season mindset in training.
For the red-flag crowd, it is rare to hear a 23-year-old player like Evans talk about durability. That's either a guy who struggled with his body late in the season, or a young man with razor focus and extreme maturity, one internally driven to extreme success.
Joe sure hopes it's the latter.
(And go figure, Evans said he got "banged up" in the Pro Bowl, and word around the NFC locker room Sunday night was that Evans "tweeked" something.)
Regardless, Evans has matured so much, and that was before Cardinals star cornerback Patrick Peterson shared key secrets with him.