McCoy: "I'm A Little Banged Up"
January 26th, 2017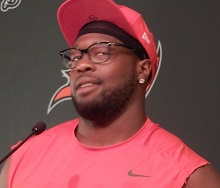 You bet your butt Joe's ears perk up upon hearing a Buccaneers' stud defensive lineman claim his body isn't in optimum condition — 3 1/2 weeks after the season finale.
Gerald McCoy told Greg Auman of TampaBay.com that he isn't 100 percent, during a discussion about participating in Pro Bowl feats of strength at Disney's Wide World of Sports this week.
McCoy was especially excited about a new "power relay" challenge, with linemen tasked with moving heavy objects along a course. He fondly remembered a similar event he watched as a fan back in the VCR days of his youth.

"I'm a little banged up, but I said 'Yeah, I'll do it!' " he said.
McCoy turns 29 years old next month and Joe thinks it's worth noting that McCoy feels "banged up" after a lot of rest. Heck, if the Bucs were a Wild Card team and made the Super Bowl, could McCoy have held up?
Joe is not knocking McCoy. His position is brutal and takes its toll. Few players can survive 10 years at defensive tackle. McCoy has seven years in the bank and has had a variety of injuries, many that he's played through.
Does McCoy have two more Pro Bowl years left in the tank, which would make it seven straight honors for him?
Joe has speculated publicly about a tw0-year window for the Bucs to make a Super Bowl run, using the logic of the very affordable rookie contract of America's Quarterback, Jameis Winston, and guys like McCoy, Lavonte David, Robert Ayers and Brent Grimes still performing at a high level, in addition to defensive coordinator Mike Smith being locked down for the next two seasons.
Players don't last forever, and Joe is thinking a lot today about the Bucs' opportunity to make a big push in free agency this year to try and crash through that window.