Koetter: Offense Can Thrive Without Bellcow RB
January 10th, 2017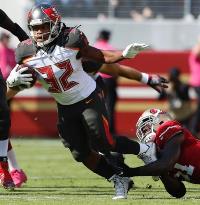 Telling take from winning head coach Dirk Koetter.
Bucs fans have their underwear collectively disturbing their buttocks with the drug suspension of Doug Martin and how that may be connected to his bad 2016 season.
Joe is not concerned. In fact, Joe welcomes what the future brings. Joe's not worried about replacing Martin's 2.9 yards per carry and suspect burst and decision making.
And Martin's pass blocking declined late in the season following an excellent start in that department.
Hell, Joe actually thinks the Bucs can be better at running back next season without Martin.
Dirk Koetter has coached A-list running backs like Maurice Jones-Drew, Michael Turner and Martin, among others. He's knows those guys need the rock often to be effective; the bellcow feeds on the ball.
But Koetter also is fine with using a committee approach, so he told the Buccaneers Radio Network last week when asked about options at the position.
"It just depends on who you have. I think either system can work," Koetter said. "Jacquizz [Rodgers] definitely came in and helped us out. You know, we're going to have to see how that kind of sorts itself out, who we have lining up next year. But I do think either one of those methods could work."
Joe is intrigued. It's good to hear Koetter express flexibility in how he views the running back position — or any position. His predecessor didn't have that mindset.
Job 1 at running back for the Bucs this offseason is re-signing Jacquizz Rodgers, and then deciding if they believe Peyton Barber is a legitimate NFL talent. Charles Sims will be back for the final year of his inexpensive rookie contract. And then there's the new running back entering the mix.
Will it be a free agent, a later round pick, or maybe even a first-round pick? (No, Joe doesn't believe in a Martin return.)
On a side note, Joe would be all over Falcons fullback Patrick DiMarco. A Pro Bowler last season and a Pro Bowl alternate this year, DiMarco could land on the unrestricted free agent market, and he was "molded" by Dirk Koetter, who sought a fullback last offseason but Danny Vitale was a bust in the draft.