Koetter: "We Need More Speed"
January 2nd, 2017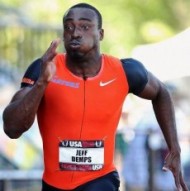 When's the last time a Buccaneers player really had take-it-to-the-house speed?
Joey Galloway?
Clifton Smith?
Maybe Arrelious Benn.
K-Y hands Jeff Demps?
It's been a while. The Bucs simply don't have that guy who can go over the top of a defense or turn a nothing-special gain into a crowd-thrilling game of chase. Heck, in recent years, Vincent Jackson and Doug Martin were caught from behind multiple times.
Charles Sims has juice in the open field, but he's a part-time running back.
Dirk Koetter talked about speed on his offense today. He sees what fans see.
"We need more speed, and when we say playmakers, playmakers and explosive plays are one in the same," Koetter said. "Guys that can make explosives, guys that can catch a 10-yard pass, break one tackle and turn it into a 30-yard gain. You know, our run after the catch is not where it needs to be.

"And again, anything that we're saying here is not an indictment on the guys we have. Because the guys you have are the guys you have. And you gotta coach the heck out of them. Once again, it goes back to the thing I said [earlier], I think this team did a good job playing as close to their talent level [as they could]."
Jason Licht tried to score that speed threat when he drafted receiver Robert Herron in the sixth-round in 2014. Herron's extra juice was evident on the field, but his hands were made of jelly.
Donteea Dye was a speedster last year but rarely caught the ball when it came his way.
Kenny Bell? Please, don't get Joe started.
Koetter sort of made it clear that speed would be an offseason priority. But Joe doesn't think the Bucs will go overboard in their quest. There are plenty of good receivers who aren't game-breakers but still get a defense's attention.