John Lynch, Matt Millen & Doug Martin
January 30th, 2017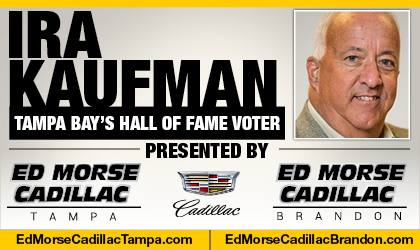 Tampa Bay's only Hall of Fame voter pens columns for JoeBucsFan.com Mondays, Wednesdays and Fridays, and he churns out his popular podcasts here Tuesdays and Thursdays. You can also listen to the podcasts on iTunes or Podbean. 
BY IRA KAUFMAN
So I'm sitting at home Sunday evening, thumbing through the Bucs media guide, when word came down about John Lynch's new gig.
Surprise, surprise.
What a kick in the head as I was in the process of finalizing my upcoming speech for Lynch's candidacy to the Pro Football Hall of Fame Class of 2017. Minutes after word leaked out that Lynch will be the next GM of the forlorn San Francisco 49ers, I sent him a text:
"You're not supposed to scoop your presenter, John. Congrats, Ira."
He said we'll talk later in the week … and there's a lot to talk about.
I've already reached out to a few selectors who assure me that these latest developments likely will have no bearing on Lynch's Hall of Fame chances. That's what I wanted to hear … because I don't need any help.
Lynch's Hall of Fame resumé speaks for itself, and it speaks rather loudly. I'm not even going to mention his new job during my presentation because 48 selectors are gathering in Houston to judge Lynch's merits as a player.
In reading all the stories about how Lynch came to be hired by 49ers CEO Jed York, one important name has gone missing. My instincts tell me Lynch had a very important voice supporting his bid to succeed Trent Baalke and lead a 2-14 club out of the NFL wilderness.
That man's name is Ed DeBartolo.
Not The Next Matt Millen
Just because DeBartolo is living in Tampa and no longer runs the 49ers, don't think the Hall of Fame owner lacks input with his nephew, Mr. Jed York.
It's a fact that DeBartolo loves everything about John Lynch, and he surely expressed those feelings to York last week when No. 47 interviewed for the job in Northern California.
It's impossible to know in advance whether Sunday's news will affect the way Hall of Fame voters view Lynch as a Hall of Fame finalist. But as I told Tony Dungy, "we're in unchartered waters" heading to Houston.
Since I became the Tampa Bay representative in 2005, I can't recall another example of big news breaking about a finalist in the week before the Hall of Fame meeting.
Lynch will be working with new coach Kyle Shanahan, who also has ties to the Buccaneers, having served on Jon Gruden's staff.
Shanahan coordinated the league's best offense this season in Atlanta, guided by Matt Ryan, and he might be the right guy to bring out the best in 29-year-old Colin Kaepernick, who quietly threw 16 TD passes and 4 interceptions in 2016.
If Shanahan doesn't believe Kaepernick's career can be salvaged, the 49ers could select a quarterback with the No. 2 pick in the draft.
Some media members are already comparing the hiring of Lynch to the example set by Matt Millen, who also lacked front-office experience when the Lions named him to oversee football operations in 2001.
Like Lynch, Millen was on the No. 2 Fox broadcast team when he was tabbed to run a struggling organization. It didn't work out as Detroit went 31-84 before Millen was fired three games into the 2008 season.
Lynch is smart enough to know what he doesn't know. He was well paid and well thought of at Fox and he wouldn't have taken the San Francisco job unless he was convinced he could succeed.
Squaring Up With Doug Martin
I'm not betting against him, and I'm not betting against his chances of joining Warren Sapp and Derrick Brooks in the Hall the day before the Falcons meet the Patriots.
In entering the Ring of Honor at Raymond James Stadium last November, Lynch said he will always consider himself a Buccaneer. To reinforce that statement, his first order of business as 49ers GM should be to trade stud defensive tackle DeForest Buckner to Tampa Bay even up for Doug Martin.
Hey, what are friends for?
Seriously, Buc fans are wishing Lynch instant success in San Francisco, preceded by success Saturday, when the Hall of Fame Class of 2017 will be announced.
This could be a heck of a week for the man Monte Kiffin once dubbed "The Closer."