Canton Crossroads For John Lynch
January 6th, 2017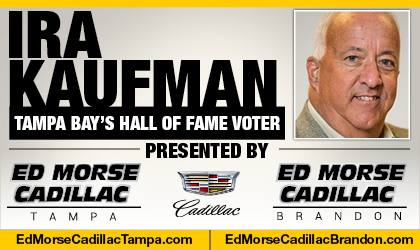 BY IRA KAUFMAN
John Lynch is standing at the Canton crossroads.
As one of 15 modern-era finalists for the Pro Football Hall of Fame, Lynch's case will be heard in front of the Selection Committee for the fourth consecutive year.
And because the Class of 2018 is loaded with first-time eligibles like Ray Lewis, Randy Moss, Brian Urlacher and Ronde Barber, this is Lynch's best shot to join Warren Sapp and Derrick Brooks in the Hall.
Lynch has serious competition at the safety position from former Eagles standout Brian Dawkins, who has better numbers than No. 47. My argument in front of 47 other voters will be that Lynch had more impact — and I've got plenty of ammunition in that regard.
Of Lynch's 26 career interceptions, 14 came in the fourth quarter. When the game was on the line, the Glazers would often turn to each other and anticipate a "John Lynch moment" that led to a Tampa Bay victory.
Once Tony Dungy arrived and turned Lynch loose in 1996, that Buc defense took off. He was the third leg of the triangle, and he had more responsibility in that historic defense than Brooks or Sapp.
It should have been labeled the Tampa 3 instead of the Tampa 2 because that scheme doesn't work without a safety like Lynch. Let's be honest, 14 years later, Buc fans are still looking for the next John Lynch.
"John could make plays on the ball or play in the box and hit like a linebacker," says fellow Hall of Fame finalist Kurt Warner. "That's what made him so special. He stood out in both areas, and you couldn't figure out how to take advantage of him."
Hall of Famer Brett Favre says Lynch's football intelligence separated him from his peers.
"We always had a cat-and-mouse game going against that great Tampa defense, and Lynch was very good at it," Favre says. "He was also a head hunter, like Ronnie Lott. He wanted guys to look over their shoulders — and that's what happened."
Inside The Politics
Why is this year's vote so crucial?
While you don't make the final 15 unless you are deemed special, this is not an overwhelming class.
LaDainian Tomlinson is widely considered a first-ballot Hall of Famer and I expect him to make the Class of 2017. Dawkins was a big-time player, but he shouldn't vault past Lynch, who has been eligible since 2013.
Lynch took a major step a year ago when he survived the initial cut from 15 to 10. That's the same progress Dungy showed in 2015 before entering Canton the following year.
Warner is a strong candidate, along with Terrell Owens, Terrell Davis, Joe Jacoby and first-timer Jason Taylor.
The safety position has been underappreciated by the Hall and even though senior candidate Kenny Easley should make it through this year, his best days came 30 years ago.
Free Reign, Versus Long Reign
Lynch was an intimidator during an era when safeties roamed the middle, seeking to inflict pain and separate players from the football. Barry Sanders, never known for hyperbole, said Lynch occupied a place in your mind.
Unlike Dawkins, Lynch's candidacy is not based on individual statistics. He played a disciplined role in an iconic system while Dawkins had free reign in Philadelphia.
What cannot be disputed is Lynch's impact on his team. From 1996-2003, the Bucs boasted a top 10 scoring defense each year with Lynch anchoring the secondary.
In Lynch's first three years with the Broncos (2004-06), Denver ranked in the top-9 in scoring defense.
That's 11 consecutive seasons of defensive domination — an eternity by NFL standards. This isn't the 1985 Bears or the 2000 Ravens … this is sustained excellence.
"For a guy who has everything, John Lynch worked even harder for everything," says Barber. "He's the guy I respected most in this league."
It's time for another John Lynch moment.