Step 3 For Jameis
January 25th, 2017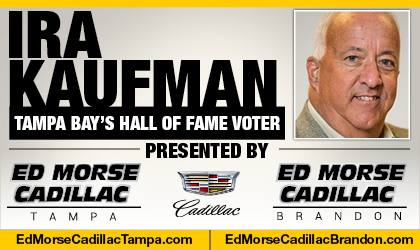 BY IRA KAUFMAN
If the Bucs are to emerge as a league power in the fall, they must add a few significant pieces on each side of the ball.
They need to find a true No. 2 receiver, revive a feeble ground game and show more toughness against the run. They can't finish last in field-goal percentage or allow 34 completions of more than 25 yards.
One more thing — Jameis Winston has to be a better quarterback.
Heading into his third season, Winston should be proud of his accomplishments. He deserves to be the unquestioned face of this franchise, but that face is not without its blemishes.
There were too many times in 2016 when Dirk Koetter was confounded by Winston's decisions. Winston's touch on deep throws isn't where it needs to be. He needs to cut down on his turnovers.
The best news for Buc fans is Winston's obsession with being elite. He holds himself to the same standard for the position as Koetter, who will be crushed if Winston doesn't eventually reach his full potential in Tampa.
When an encouraging season ended with the Bucs on the brink of an NFC playoff berth, Winston announced he's ready to go to work.
"I'll be talking more in-depth with coaches about what I need to specifically improve on, not just my typical improvements that I think I need to get better at," Winston said. "I'm going to do my best to eliminate the negative parts of my game. I believe that getting better every single year is instrumental to being a great quarterback and leading this franchise."
"The Anti-Freeman"
From ownership to everyone in football operations, the Bucs believe Winston will be an elite NFL quarterback. He's not there yet, not by a longshot, but he just turned 23 and teammates can't say enough about his competitive spirit.
"He's a very mature guy to be his age," says Gerald McCoy. "He puts the work in, man."
In some ways, Winston appears to be the anti-Freeman.
In 2010, the Bucs thought they had a franchise quarterback in 22-year-old Josh Freeman, who turned in an extraordinary performance in his first full year as a starter.
Tampa Bay went 10-6 that season, but Freeman came back the next year and threw 22 interceptions. He wasn't the primary culprit on a team that regrettably quit on Raheem Morris, but Freeman didn't offer much help during a season-ending 10-game losing streak that ushered in a new head coach.
Freeman's physical tools were comparable to Winston's, but he failed to "put the work in." McCoy keeps trying to beat Winston to One Buc Place every morning during the season, but it's a losing proposition.
Winston's on top, coming and going.
"I'll leave late because I do extra rehab afterward and he is going into the meeting room," McCoy says." He's going into the meeting room when I'm walking out the door. He just loves this game — and that's why he is so successful."
A look within his own division tells Winston everything he needs to know.
Defensive Mantra
Matt Ryan, preparing for the Super Bowl, is about to succeed Cam Newton as the league MVP. Drew Brees is a first-ballot Hall of Famer who led the NFL in passing yards and shows few signs of slippage at age 38.
Winston's status as the No. 4 quarterback in the NFC South remains a driving force.
Only Philip Rivers (21) threw more interceptions than Winston (18) last season. There's little doubt a better run game would help immeasurably. So would a speedy target to go along with Mike Evans, Adam Humphries and Cameron Brate.
But most of all, better mechanics will lead to better results for a young quarterback with an unquenchable thirst for greatness.
"Nothing Jameis does surprises anybody on this team," says safety Keith Tandy. "We always say on defense, get the ball back to Jameis and he's going to make something happen. He's going to make magic happen."
Tampa Bay's only Hall of Fame voter pens columns for JoeBucsFan.com Mondays, Wednesdays and Fridays, and Ira Kaufman churns out his popular podcasts here Tuesdays and Thursdays. You can also listen to the popular podcasts on iTunes or Podbean.