Dirk Koetter & "Toxic Differential"
January 23rd, 2017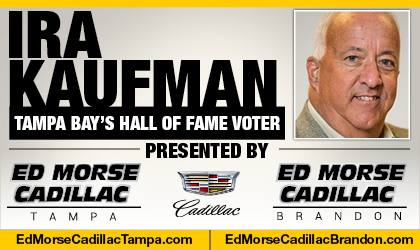 BY IRA KAUFMAN
NFL players have been knocking heads for almost a century and the letters TD have always stood for touchdown.
Not anymore.
There's a new TD on the pro football landscape, one that tells an intriguing story if you're willing to listen.
Dirk Koetter sounds like a true believer.
A few years back, Brian Billick talked up a statistic he dubbed "toxic differential," designed to gauge the relative strength of NFL teams.
Simply put, you take the differential of big plays (runs of more than 10 yards and completions of more than 25 yards), add turnover ratio to the mix and voila, you're ready to rumble.
No stat is foolproof, except for wins and losses, but Billick's baby has serious ramifications for the 2016 Buccaneers.
Tampa Bay registered 35 runs of more than 10 yards and 25 completions of more than 25 yards last season. That total of 60 pales in comparison to the 76 big plays Tampa Bay posted in 2015, when Koetter was devoting all of his attention to the Buc offense.
Only the Rams (53) and Vikings (51) generated fewer of these big plays and the Bucs allowed 88 of 'em, giving them a big-play differential of minus-28.
That's not a typo.
Minus-28.
Horrific Company
That's the worst mark in the league, with the hapless Rams No. 31 at minus-20.
When you add in Tampa Bay's plus-2 turnover ratio, the Bucs were minus-26 on Billick's toxic differential scale, ahead of only the Jets, the Browns and the Rams.
Is that a group you want to be associated with?
No wonder Koetter puts so much stock in the importance of big plays.
"We're not a dink-and-dunk team, so we're not going to be a 70 percent completion team,'' Koetter says. "We need to be in the low 60s and keep focusing on making our explosives plays. We preach explosives way more than we preach completions."
Tampa Bay's pedestrian ground game was the primary culprit, leading to a 30 percent drop in big runs — from 50 in 2015 to 35 this season.
Stats can be twisted, but this season's toxic differential totals paint a vibrant picture. The Cowboys were first at plus-40, followed by the Patriots (+38) and Falcons (+29). The Steelers came in fifth (+23), followed by the Packers at plus-20.
Yes, four of the top six "TD" clubs played this past weekend.
Super Bowl Formula
From 2015-2012, the four teams that led the league in toxic differential (Panthers-Seahawks-Seahawks-49ers) all advanced to the Super Bowl.
That's one heck of a coincidence.
Picking up huge chunks of yardage at a time changes field position in an instant and demoralizes defenses. The Bucs had to grind out too many possessions this season, undermined by penalties and poor production on first down.
On defense, Mike Smith made a strong commitment to addressing that absurd 70 percent completion rate Buc opponents registered in 2015. That number shrunk to 63 percent this year, but there was a price to pay.
A year after yielding only 20 long passes, Tampa Bay allowed 34.
The bottom line is the Bucs can't hope to be a league power unless they do a far better job generating big plays and limiting those of the opposition.
"Explosive plays within a drive significantly change your opportunity to score," says Seattle coach Pete Carroll. "So it's really important to try and create those plays."
That's the mantra Koetter and Jason Licht will take into an offseason geared to flip that chilling toxic differential.