"Change Is Going To Happen"
January 3rd, 2017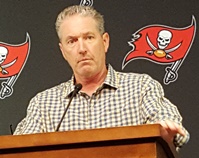 Brace yourselves, Bucs fans. Changes are a comin'.
While the Bucs had a nice, 9-7 season. It was good but not good enough. In his final exclusive sitdown of the 2016 season with dangerous Dan Lucas of WFLA-TV Channel 8, Koetter cautioned fans that the team will add players, say goodbye to players and possibly coaches.
It's not that Koetter wants to break up a winner, but Koetter noted you cannot stop change.
"I think we set the bar higher moving forward," Koetter said. "Change is going to happen. You are going to have changeover in the players. You are going to have possibly some changeover in the coaching staff."
On the prospect of maybe the defense needing to learn a fifth new system in five years (Greg Schiano, Leslie Frazier, Lovie Smith and Mike Smith previously), Koetter noted it's not the ideal situation but that's life in professional football.
"That's the NFL," Koetter said. "Change is inevitable. That's going to happen. That's the league. That's the NFL. We have to embrace it."
Koetter noted he doesn't fear installing a new defense with a new coordinator — if Mike Smith leaves for a head coaching gig — saying the players are "resilient."
To see the full interview, click the white button below. Video courtesy of WFLA.com.