Ira Kaufman Shares His 2016 All-Pro Ballot
January 4th, 2017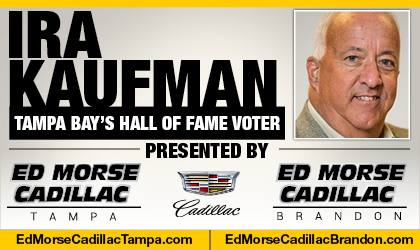 BY IRA KAUFMAN
Making the Pro Bowl is a nice honor. Making the All-Pro team is more challenging — and ultimately more rewarding.
It's the difference between a People's Choice Award and an Oscar.
As one of 50 media members on the Associated Press panel, I submitted my All-Pro ballot earlier this week. The AP will reveal the winners on Friday, but our loyal readers shouldn't have to wait that long to see who your humble servant selected as the best of the best for the 2016 regular season.
And yes, the Bucs are represented.
The big awards won't be revealed until the night before the Super Bowl, but my selections are spelled out in this column.
On to the All-Pro picks:
At quarterback, I went with Matt Ryan, who has been outstanding since Week 1. Ryan directed the top scoring attack in the league and he isn't surrounded by extraordinary talent, other than Julio Jones. Ryan has been as good as Tom Brady — and he didn't miss a quarter of the season.
Ezekiel Elliott is an easy choice at running back and Kansas City's Travis Kelce has been the best tight end in the league.
My two wide receivers are the incomparable Antonio Brown and Tampa Bay's own, Mike Evans. The competition was fierce, with Odell Beckham, Julio Jones and Jordy Nelson coming up a little short in my book to Evans, who kept moving the chains and reaching the end zone.
AP added a "flex" position this year and I selected David Johnson, the most versatile back in the NFL. Johnson did it all for the Cardinals, a modern-day version of Marshall Faulk, Edgerrin James or Roger Craig.
My offensive line from left to right is former Buc Donald Penn, his Raiders teammate, Kelechi Osemele, center Travis Frederick, Dallas teammate Zack Martin at right guard and Tennessee rookie Jack Conklin, who paved the way for DeMarco Murray's stellar season.
On defense, Khalil Mack and Vic Beasley are my edge rushers and I went with Aaron Donald and Giants run-stuffer Damon Harrison as interior linemen.
My three linebackers are Von Miller, Bobby Wagner and Sean Lee, and I've got Marcus Peters and Malcolm Butler at corner.
At safety, Landon Collins was an easy choice and I gave the other spot to Patriots veteran Patrick Chung, an exceptional tackler.
The AP added an additional spot at defensive back and I chose Denver stalwart Chris Harris over Aqib Talib.
That leaves special teams, where Baltimore's Justin Tucker was the league's premier kicker. Johnny Hekker narrowly beat out Tampa Bay's Bryan Anger at punter and Los Angeles teammate Chase Reynolds was the choice among players who stood out on coverage units.
Cordarrelle Patterson of the Vikings is my kick returner. Electrifying Chiefs rookie Tyreek Hill was an easy choice at punt returner.
And now for the awards …
MVP: Ryan has been my pick as MVP for a while, and he never faltered in leading Atlanta to the NFC's No. 2 playoff seed. And to think, a year ago many Falcons fans were ready to move on from Ryan, who was admittedly disappointing in 2015.
Coach of the Year: Jason Garrett wins a tight battle as my Coach of the Year, edging Jack Del Rio, Bill Belichick, Adam Gase and several other worthy candidates. When you win 13 games with a rookie quarterback, you've done a heck of a job.
My top assistant is Kyle Shanahan, who worked wonders as Atlanta's offensive coordinator. The Falcons were unpredictable and innovative and Shanahan will likely move on soon to fill one of the many NFL head coaching vacancies.
Comeback Player of the Year: Cameron Wake made a remarkable rebound from a torn Achilles. He beats out Jordy Nelson
Rookies of the Year: I'm going with Prescott over Elliott as my top offensive rookie while Joey Bosa edges Keanu Neal and Jalen Ramsey on defense.
Offensive Player of the Year: After lavishing all this praise on Ryan, whose average of 9.3 yards per passing attempt dwarfs any competitor, including Brady, how could Atlanta's veteran QB not be my pick?
Defensive Player of the Year: I took Mack over Miller in a close call, with Landon Collins also in the mix. Mack doesn't get a lot of help on Oakland's pedestrian defense, but he can wreck a game plan all by himself. Keep your eye on him during Saturday's playoff matchup at Houston and see just how much attention he demands.