Beasting Beyond 7 Million Visits
January 3rd, 2017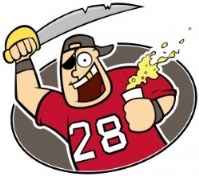 Before Joe publishes a comprehensive grade of general manager Jason Licht for the 2016 season, Joe must share some frustration and a thank you.
Joe is a competitive dude and really was yearning to record 7 million actual visits to JoeBucsFan.com in 2016. Joe missed the mark. But it was a lofty goal from 6 million in 2015, despite Joe bringing in the big guns.
Tampa Bay's only Hall of Fame voter, Ira Kaufman, and Justin Pawlowski joined the JoeBucsFan.com family with their award-winning work and podcasts. And Todd Wright added A+ quality with his fantasy football podcast, which was a rousing success.
But alas, Joe fell shy of that goal of 7 million actual visits last year.
The bad news is Joe is punching walls in fits of frustration, much like many Bucs fans do after Roberto Aguayo attempts a field goal of 40+ yards.
The good news is Joe is super motivated to raise the bar around here in 2017, subsequently compelling readers to visit Joe more often. Trust that Joe is exploring creative and fun means to make that happen. Think big names and/or beautiful women.
Regardless, Joe extends a hearty thank you to all readers, whose patronage allows Joe to spend 24/7 immersed in Bucs football.
What a life you have granted Joe.