Your Buccaneers' All-Time Pro Bowl Team
January 27th, 2017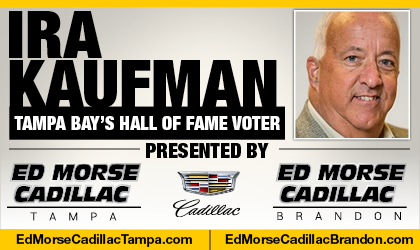 BY IRA KAUFMAN
After a three-year brain fart, the NFL has come to its senses and restored the Pro Bowl's traditional AFC vs. NFC format.
Thankfully, we didn't have to witness the spectacle of Michael Irvin and Jerry Rice trying to divvy up the rosters, but let's not get carried away — this game still stinks.
In honor of Sunday night's matchup at Camping World Stadium, here's one man's version of the all-time Buccaneer Pro Bowl squad.
The only position that posed a problem was safety. John Lynch, a compelling finalist for the Pro Football Hall of Fame this year, was an easy choice, but he's the only Tampa Bay safety to ever earn a Pro Bowl spot.
Instead, we're going with three cornerbacks and one safety, so let's get this party started. Years in parenthesis are the Pro Bowl seasons in a Tampa Bay uniform.
OFFENSE
QUARTERBACK: Jameis Winston is coming on strong, but I have to go with Brad Johnson (2002), who enjoyed a stellar year during the championship season. Johnson was a stud down the stretch run to a Vince Lombardi Trophy.
RUNNING BACKS: Mike Alstott churned out six consecutive Pro Bowl berths (1997-02) and finished with a franchise-record 71 touchdowns. At the other spot, all-time rushing leader James Wilder (1984) narrowly beats out Warrick Dunn.
WIDE RECEIVERS: Mike Evans (2016) already looks like the best WR in Buc history, and he's chilling with his fellow stars in Orlando this week. Mark Carrier (1989), first in career receiving yards and No. 2 in career catches, edges Keyshawn Johnson at the other spot.
TIGHT END: No mystery here, as four-time Pro Bowler Jimmie Giles (1980-82, 1985) is a member of the Buccaneers Ring of Honor.
TACKLES: Donald Penn (2010) proved to be a durable left tackle in Tampa before starring for the Raiders. It's a shame that Ring of Honor recipient Paul Gruber never played in a Pro Bowl, but he was an alternate in 1997.
GUARDS: Davin Joseph (2008, 2011) was a solid interior lineman who proved to be a savvy first-round draft pick. Former New England stalwart Logan Mankins (2015) earned his seventh Pro Bowl spot in his final year before announcing his retirement.
CENTER: As the Bucs were emerging as an NFL power, Tony Mayberry reeled off three consecutive Pro Bowl berths (1997-99).
DEFENSE
ENDS: Starting in 1979, Tampa Bay's breakthrough season under coach John McKay, Hall of Famer Lee Roy Selmon made the Pro Bowl six consecutive years before a back injury forced his retirement. Simeon Rice (2002-03) was a dynamic force off the right edge and he deserves more respect as a Hall of Fame candidate.
TACKLES: Warren Sapp (1997-2003) was a two-time All-Decade player who earned a Hall of Fame bust in his first year of eligibility. After two injury-marred years, Gerald McCoy has been a Pro Bowler for each of the past five seasons.
OUTSIDE LINEBACKERS: Derrick Brooks (1997-2006, 2008) needs no explanation. Lavonte David broke through to earn his first Pro Bowl berth in 2015 and he finished this season strong.
MIDDLE LINEBACKER: One of the best free-agent signings in Buc history, Hardy Nickerson (1993, 1996-99) helped forge the culture change that occurred under Tony Dungy's reign as head coach.
CORNERBACKS: Ronde Barber (2001, 2004-06, 2008) will be eligible for the Hall of Fame in 2018 and his 47 career interceptions easily top the franchise chart. Donnie Abraham (2000) ranks second with 31, while Wayne Haddix picked off seven passes during his 1990 Pro Bowl season, returning three for touchdowns.
SAFETY: John Lynch (1997, 1999-02) could join teammates Sapp and Brooks in the Hall on Feb. 4. He moved on to Denver in 2004 and made the Pro Bowl in each of his final four seasons.
SPECIAL TEAMS
KICKER: Martin Gramatica (2000) is the franchise's career scoring leader with 592 points.
PUNTER: Josh Bidwell (2005) placed 124 of 419 punts inside the 20 and averaged 44.0 yards during his six seasons in Tampa.
RETURNER: Clifton Smith enjoyed a Pro Bowl season in 2008, scoring twice while averaging 27.6 yards per kickoff return and 14.1 yards per punt return.
LONG SNAPPER: Dave Moore, now an analyst on Buc radio broadcasts, was one of Tampa Bay's few bright spots in a dismal 2006 season