TV Map For Stinking Panthers-Bucs
December 31st, 2016
Where can you watch the Stinking Panthers-Bucs game free? Joe's got your information right here.
Barring a New Year's miracle, the Bucs host the defending NFC champs in the 2016 season finale at 1 p.m. local time. Can the Bucs perhaps find a way to get that elusive winning season, only the second time since Chucky was jettisoned? How pathetic is that?
If you live in ACC country, then you may just be able to watch the game via your local over-the-air FOX broadcast affiliate.
As always, TV map courtesy of the506.com.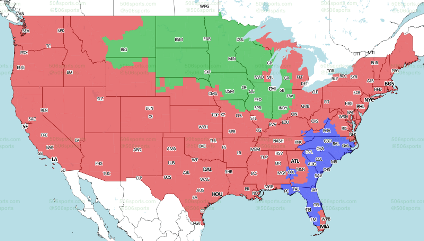 Blue: Carolina @ Tampa Bay.
Red: Dallas @ Philadelphia.
Green: Chicago @ Minnesota.
Gray: No game.