TV Map For Saints At Bucs
December 10th, 2016
It's that time of the week to find out if you need to schedule an Uber.
The Bucs host a pivotal NFC South game tomorrow against the Saints. If the Saints lose, their playoff chances are dead. If the Bucs lose tomorrow, their playoff chances take a dent.
So where can you find the game on your TV? Joe has answers.
Despite being such a key game, the FOX contest will have limited broadcast outside the NFC South footprint. Those not in the southeast will likely will need NFL Sunday Ticket or a friendly local bar to catch the game.
As always, TV map courtesy of the506.com.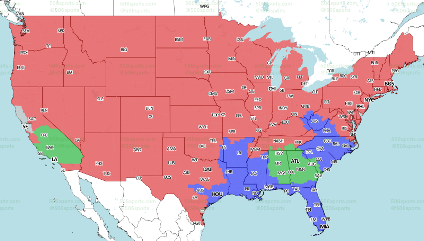 Blue: New Orleans @ Tampa Bay.
Red: Seattle @ Green Bay.
Green: Atlanta @ Los Angeles.
Gray: No game.