"There's More To Everything Than Meets The Eye"
December 29th, 2016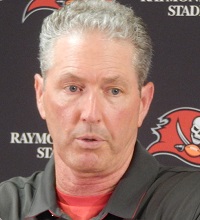 Dirk Koetter was talking this afternoon at One Buc Palace.
But Koetter wasn't interested in providing details on the Doug Martin saga and its effect on the Bucs.
Koetter advised media they could use their "imagination" and "there's more to everything than meets the eye."
Ok, Coach.
Koetter went on to say it is "a positive thing" that Martin was making the effort to give himself a better life and long-term health.
Frankly, Joe thinks the Bucs should be more open about how or if Martin's situation impacted on-field decisions and/or play. Maybe Joe's out of line here, but Martin was a team superstar and his image adorns the side of the stadium.
Loads of Bucs fans invested money into Martin jerseys and, for some, that's money they didn't have. (Yes, Joe knows a guy who bought a Martin jersey for his kid for Christmas.)
Joe's confident that there will be more clarity in the coming days.