Tandy Identifies When Jameis "Took Control"
December 14th, 2016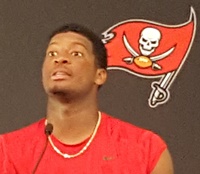 Yes, America's Quarterback, Jameis Winston, is the unquestioned leader of the Bucs.
But when did he really grab that role?
Keith Tandy hit on that topic during an appearance this week on PFT Live on NBC Sports Radio.
The fifth-year safety explained that Jameis really sat back in more of an observation-type role until Kwon Alexander's brother was killed in late October of last year.
"He just stepped up in, took control of the team and never looked back," Tandy said.
Yes, 21-year-old Jameis grabbed the reins when the team was at its lowest, just after an historic chokejob at Washington and while rattled by the Friday murder of a teammate's brother before a Sunday game.
In many ways, that was the first time Jameis fully injected his family theme to Buccaneers. The video of Jameis' pregame speech in Atlanta was gripping.