"He Seems Like An Eight-, Ten-Year Vet Already"
December 9th, 2016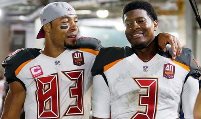 The honorable Vincent Jackson, fresh off his latest community man of the year honor he always wins, has been showing his face more the last week or so.
Jackson is done for the year with a knee injury, but he's still paying attention and heaping accolades on America's Quarterback, Jameis Winston.
Jackson threw much love to Jameis on NFL Network (video here) this week, saying, "He seems like an eight-, ten-year vet already."
When Jackson bolted the Chargers for Tampa Bay after the 2011 season, San Diego gunslinger Philip Rivers was entering his ninth season. So it's not like Jackson calling Jameis a seasoned veteran presence is a pile of BS.
Impressive times for 22-year-old Jameis.