Raheem's 10-6 Survives Another Year
December 24th, 2016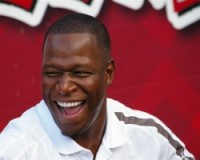 Only once in the past 10 seasons have the Bucs finished 10-6 or better.
You can cry.
You can laugh.
You can stand in amazement that 34-year-old Raheem Morris pulled that off in 2010 with a 22-year-old quarterback and starting 10 rookies during the season.
Joe's taking a 12-minute break from current Bucs depression to hearken back to this glory year. Yes, angry Bucs fans rip those 2010 Bucs because they only beat one "good" team, as if that makes any sense in a competitive football league.
Finishing 10-6 is a major achievement and mandatory lately to sniff the playoffs in the NFC.
Chucky got fired after back to back 9-7 seasons.
Yes, 10-6 will always be a big deal. Thanks for the memories, Rah.