Leading The League In Wrapping Up
December 13th, 2016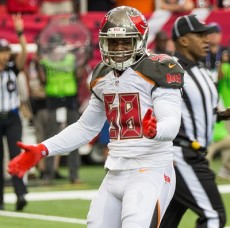 There's a very intriguing tackling statistic for your 2016 Buccaneers.
And it's a real stat, not some sort of data-nerd concoction.
The NFL keeps official stats for assisted tackles. There's a solo tackle and then an assisted tackle.
The Bucs have the fewest "assists" in the NFL with 123. The Seahawks are at the other end of the spectrum with 372. The Cowboys are middle of the pack with 232.
So what does it all mean?
Well, Joe thinks it's safe to say the data is further evidence that the Bucs' individual tackling is vastly improved overall from last year, and from the early part of this season.
The Bucs defense has been getting off the field consistently and has been extraordinary on third down.
That's greatly helped Tampa Bay's time of possession numbers, which are strong.
But on the flip side, the low number of assists also shows the Bucs' swarm to the ball hasn't been what it should be.
Obviously, Joe's not quibbling one bit with the dominance of the Tampa Bay defense the past five games, but before that effort was lacking. And Joe believes that assist total speaks to that — just in case you didn't believe Derrick Brooks for some reason.