Koetter Talks "Bend-But-Don't-Break"
December 17th, 2016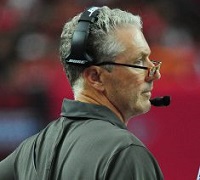 Yes, the Cowboys allow opposing passers a 69.7 percent completion rate. Receivers are open, but the Cowboys are playing somewhat textbook bend-but-don't-break, Tampa-2-like defense.
Not the kind Lovie Smith led with the Bucs.
Dirk Koetter, though, hears folks talking "bend-but-don't-break" and says he understands the mindset but doesn't see that on film from Dallas, so he told SiriusXM NFL Radio yesterday.
Koetter said he sees a Dallas defense playing extraordinarily hard. And Koetter sure emphasized "hard." He praised Cowboys defensive coordinator Rod Marinelli for the product his defense is delivering consistently.
So that's what jumps off the film to the Bucs head coach; effort and swarm, plus the leadership and versatility of linebacker Sean Lee.
Lee, a Pro Bowler last year, has 130 combined tackles (assists and solo tackles) this year, per NFL.com. That's second-best in the NFL. Lee, however, has no sacks and just one official pass defensed. By comparison, Lavonte David and Kwon Alexander each have five.
Joe's not too scared of Lee, but Joe is concerned about the need for Roberto Aguayo against a "bend-but-don't-break" team, as well as the Bucs' second-tier talent at receiver in such a huge game in prime time.