Ira's 10 Takeaways From Bucs-Cowboys
December 19th, 2016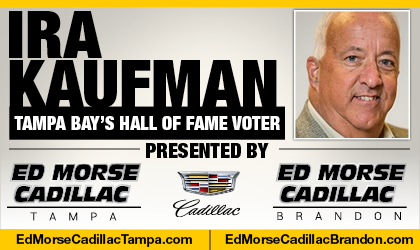 BY IRA KAUFMAN
Exposed, not embarrassed.
Vegas oddsmakers had it about right, establishing the Cowboys as 7-point favorites. Tampa Bay played hard Sunday night at Jerry's World, but the Bucs didn't play particularly smart and the Cowboys deserved to win.
Now it's on to the Superdome, where all the Bucs want for Christmas is a tw-game winning streak, coupled with an Atlanta loss to either Carolina or New Orleans.
Takeaways proved to be Tampa Bay's undoing in Big D, so here are 10 more to digest before the holidays:
* Dak Prescott was so sharp and poised. I can't remember the four passes he missed in closing the door permanently on Tony Romo. When the Bucs didn't dial up a blitz, Prescott had plenty of time to go through his progressions as the four-man rush proved futile against a dominating offensive line.
* Gerald McCoy sure appeared animated during a pregame speech, but once the whistle blew he looked spent. Although Dallas had the ball for more than 36 minutes, McCoy failed to show up on the post-game stat sheet. Zero. Nada. Bupkis. In Week 2, Lavonte David failed to register a tackle at Arizona. Any coincidence those are the only two road losses of the season?
* Even in defeat, middle linebacker Kwon Alexander and cornerback Brent Grimes were outstanding. Alexander hit everything in sight and was responsible for Tampa Bay's only takeaway when he jarred the ball loose from sure-handed Jason Witten. Grimes was stout on coverage and played the run well, continuing a solid season.
* The Doug Martin chatter isn't going away. Martin's lack of production is hurting this offense and it wouldn't be a shock to see Jacquizz Rodgers playing a big role in the Big Easy. With few exceptions, the Bucs have run the ball poorly in 2016 — a big reason why Dirk Koetter's offense has been awful on first down.
* The elephant in the room looked like a dinosaur Sunday evening. Tampa Bay's veteran right tackle made Cowboys hulking defensive end David Irving look like Julius Peppers in his prime, coming off the left edge to post two sacks, a deflection and five hits against Jameis Winston. Former Buc Anthony "Booger" McFarland offered his take Monday on Twitter: "Gosder Cherilus is still terrible this morning just in case u guys didn't notice." …Everyone noticed. Here's hoping Demar Dotson passes the NFL's concussion protocol this week.
* Winston was under siege much of the evening, but even when he had time to throw he wasn't on target. He was picked off three times, dropped four times and fumbled once. His most crucial misfire came in the final minutes when he overthrew Mike Evans down the left sidelines on a potential big third-down gain. Even Winston's touchdown pass to Adam Humphries, which admittedly came under duress, was badly underthrown.
* The setback hurt Tampa Bay's postseason chances to be sure, but the Bucs are still in decent shape if they can rebound at New Orleans and at home against Carolina. A 10-6 mark could be good enough for an NFC wild-card spot or a division title if Atlanta stumbles. A loss against the Saints and the Bucs are toast.
* Mike Smith's defense took a step back after an impressive five-week run. Job 1 was containing Ezekiel Elliott, and the Bucs get an "F" on that score. Elliott reeled off seven runs of 10 yards or more and gained 78 yards in the fourth quarter alone. It was a big comeback game for a proud Dallas offensive line that had underachieved in the previous two weeks.
* Lack of discipline proved costly. Winston's head butt against linebacker Justin Durant contributed to a ridiculous 2nd-and-goal situation from the Dallas 28 and the defensive line showed poor gap control. Elliott kept capitalizing with cutback runs that led him to the second level. "Guys were trying to do too much, instead of what we've been doing," McCoy admitted. "We're a good team and we played another good team. Hopefully, we see them (Cowboys) down the line."
* The key sequence came after Alexander forced a fumble at the Dallas 45 midway through the fourth quarter, with the Cowboys clinging to a 23-20 advantage. The Bucs went 3-and-out but punter Bryan Anger did it again, pinning Dallas at the 4-yard line. Instead of turning conservative, Prescott found Dez Bryant for a 19-yard completion and the Cowboys drove for a field goal. That's not exactly the kind of complementary football Koetter and his staff have been stressing.