"He's In The Argument"
December 16th, 2016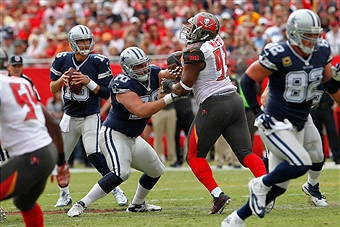 There's endless gushing for the beasts of the Cowboys offensive line.
And Gerald McCoy weighed in on a national podcast this week.
McCoy glowed and crowed about third-year Cowboys guard Zack Martin, about how he's "a blocking machine" and has such impressive film. Man, McCoy was really sharing the love for the Cowboys' first-round pick out of Notre Dame in 2014.
Joe thought maybe McCoy would pull a Jameis Winston and throw in how good Ali Marpet is, or Kevin Pamphile, but that didn't happen. Yeah, Joe gets that McCoy was asked about Martin. Ok.
On Martin, McCoy told The Simms and Lekoe Podcast, 'he's in the argument" for best offensive lineman in the NFL.
McCoy also expressed how jacked up he is to play against the best offensive line on Sunday Night Football in a big game. He can't wait to compete and face the best of the best. McCoy said he can't understand why anyone could think the Bucs are afraid of this game. This is a dream scenario for any competitor, McCoy said.
Joe's glad McCoy got a good look at the Cowboys line last year during the Bucs win at the Den of Depression. That can only help. McCoy was playing with a bad shoulder then, so Dallas should get a more dangerous McCoy.