Four Bucs Named Pro Bowl Alternates
December 20th, 2016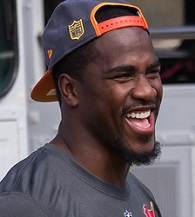 We already know Gerald McCoy and Mike Evans are in the 2017 Pro Bowl in Orlando.
And the way players bail out of the game, the Bucs might have four more Pro Bowlers.
Kwon Alexander, punter Bryan Anger, Lavonte David and Brent Grimes were named as alternates to the NFC team.
No love for Cameron Brate and his conference-leading seven TDs at the tight end position.
Kwon has been a monster this season, and this is one heck of an acknowledgement for a relatively unknown 22-year-old linebacker drafted in the fourth-round last year.
Grimes leads the NFC with 22 passes defensed. The 33-year-old shows no signs of age and has made the last three Pro Bowls.
Anger has been one hell of free agent signing. David is having an off year and surely got the nod on reputation and pure talent.
Of course, Joe hopes the Bucs make the Super Bowl and have nobody at the Pro Bowl. But if the Bucs aren't playing in the big game, then Joe wants all the guys to enjoy the experience.