Defensive Coaches' Official Game Ball Went To …
December 6th, 2016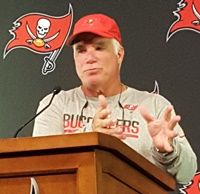 Video from Sunday's happy locker room showed Dirk Koetter give the instant-postgame game ball to Lavonte David.
However, David didn't earn the more official game ball that's handed out by Bucs coaches after they review film.
Dirk Koetter has discussed that process on his Buccaneers Radio Network show. Defensive coaches pour over the film, which never lies when you're aware of the players' assignment, and hand out a game ball based on that study.
Last night, Koetter revealed on his show that safety Keith Tandy got the honor for his work filling in for injured Chris Conte.
The Schiano man, a sixth-round pick by the Bucs in 2015, was given major-league love by Koetter.
"He gets his opportunity to step in as a starter and played about as solid a game as you can play, has the game-winning interception and ends up winning the game ball on defense. He's a pro," Koetter said.

"I mean, you hear coaches, and you even hear players talk about, 'This guy's a pro.' Well what does a pro do? A pro knows, 'Even thought I'm not starting. I better be ready because in one play I might be a starter.'

"Anybody can say it, but then to go out there and do it, that is the sign of a real pro."
Tandy, 27, is simply the kind of guy you need to have a winning NFL program. The guy works hard and is a competent backup and a solid special-teamer.
No, he's not starter quality, but he's not really supposed to be.
For those wondering, Tandy is under contract for $840,000 in 2017.