Cam Is Laughing About Jameis
December 30th, 2016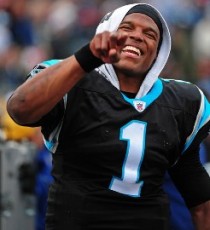 Yes, America's Quarterback, Jameis Winston, has caught the eye of Cam Newton.
Is it for the all the right reasons? Maybe.
Joe's friends at BlackAndBlueReview.com penned a nice comparative look at the first two seasons of Jameis and Newton. It included Newton's reaction to the wild side of Jameis.
"He's as much of a football player as anybody on the field," Newton said of Winston. "It's little things that I see and kind of laugh about, but when you see a quarterback handing the ball off and running down field trying to get a block, that's kind of unheard of. But that's him."

While the Bucs aren't as dependent on a running quarterback as the Panthers have been, Winston's been asked to do more with his arm. Through his first 31 games, he's averaging more passes per game (20.5) than Newton did (18.4) from 2011-12, and that's led to more touchdowns (Winston 49, Newton 40) and interceptions (Winston 32, Newton 29).
The blocking to which Newton referred likely was Jameis handing off in San Diego to Jacquizz Rodgers and then sprinting alongside him looking to bury someone. Joe can't be sure, though. Jameis had blocked previously, was scolded by coaches, and then did it again.
Regardless, Newton's "football player" praise of Jameis shows great respect and mirrors the kind of respect Jameis gets from his teammates and coaches.
But Joe really wants to see Jameis quit the blocking once and for all. The risk/reward simply isn't there.