Knockout Blows
December 23rd, 2016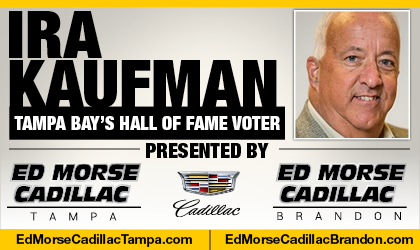 BY IRA KAUFMAN
@iKaufman76
It's the most important relationship in pro football, and Saturday's matchup at New Orleans is Exhibit A.
The vibe between a head coach and a quarterback cannot be overstated and this could be the last roundup for Drew Brees and Sean Payton at the Superdome, where they have lit up that scoreboard for the past decade.
Brees took a 30-28 career record into New Orleans as a free agent in 2006. He had never topped 3,600 passing yards before hooking up with Sean Payton and forming a deadly duo.
Brees turns 38 next month and there is growing speculation Payton will soon be traded for a package of draft picks to accelerate a rebuilding process.
It's quite a different scenario in Tampa, where 22-year-old Jameis Winston and first-year head coach Dirk Koetter have the Bucs in prime position for a playoff spot.
Brees bounced back from two subpar games to strafe Arizona in last week's 48-41 triumph, throwing for 389 yards and four touchdowns. That's the NFL assassin Buc fans are familiar with, the gunslinger who has broken Tampa Bay hearts for 11 years.
The Bucs beat him 16-11 two weeks ago, but even defensive coordinator Mike Smith has to know deep down that Brees is going to get his on Christmas Eve.
Will Winston?
Impotent Stretch
Tampa Bay has topped the 20-point mark only once in the past five weeks, and this is no time for an offensive funk. The Saints lead the NFL in total offense and they average 31 points at home.
The Bucs defense will show up Saturday, but Winston and company have to do their part. They may have to win a shootout of the 35-31 variety. At the very least, they have to stay on the field.
If the Saints snap the ball 83 times, like they did at Arizona, they figure to win Saturday. Maybe even win big.
The onus is on Tampa Bay's struggling attack to carve up a New Orleans defense that allowed the Cardinals to average 7.6 yards per snap.
Big plays would certainly help.
In the past two weeks, the Bucs have registered only five long plays — runs of at least 10 yards or completions of 20 yards or more.
Buc opponents have posted 13 long plays in that span.
"We look at the variables that affect winning in the NFL and turnovers is obviously number one, explosive plays is number two and sacks is actually ahead of third downs for number three," Koetter says.
Pound 13
Mike Evans has only one long reception in the past three games, a 22-yard catch at San Diego, and that simply won't do. Of course opposing defenses are tilting coverage toward Evans, but those are the challenges elite receivers face every week in the NFL.
If I'm Koetter, I'm not leaving the Superdome without throwing several long passes to Evans. He'll catch a few and generate flags on some others, giving the Bucs the chunk yards that have been sorely missing.
I'm also activating Jacquizz Rodgers, with the idea of using him as my primary back if Doug Martin gets off to a slow start. This is no time to think about contracts, investments or hurt feelings, not with a postseason berth at stake in the final two games.
"We're having some trouble in multiple spots," says Koetter. "We're too inconsistent overall on offense. We just got out of our rhythm."
If you can't find your rhythm in a jazz capital like New Orleans, you don't deserve to be on the playoff stage. While Payton has one foot out the door, this is Koetter's moment to ease him out of the Big Easy.
Ira Kaufman is a proud JoeBucsFan.com columnist pounding out columns Mondays, Wednesdays and Fridays, plus a postgame reaction and his riveting podcasts every Tuesday and Thursday. Considering eye-RAH! has been covering the NFL since 1945, he's a very busy man. Ira is the only Pro Football Hall of Fame voter representing the Tampa Bay market.