Historic Denial
December 12th, 2016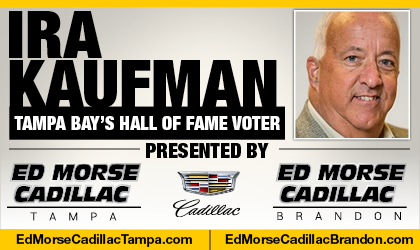 Tampa Bay's only Pro Football Hall of Fame voter, JoeBucsFan.com columnist Ira Kaufman, brings his 87 1/2 years of experience covering the NFL to his Monday, Wednesday and Friday writings. Mr. eye-RAH! cruised around the victorious Bucs locker room for his latest entry.
BY IRA KAUFMAN
Get back, get back, get back to where you once belonged.
The Bucs are getting there.
During the glory days of this franchise, Tampa Bay's defensive leaders had a simple message for the offensive coordinator: get us 17 points and we'll take care of the rest.
Since those twin killings by the Raiders and Falcons left the Bucs grasping for relevancy at 3-5, Mike Smith's group has grabbed this season by the cajones and squeezed.
"Our defense is playing at a championship level," center Joe Hawley said in the aftermath of Sunday's 16-11 victory against the Saints. "We've got to do our part and make things easier for them."
There was nothing easy about shutting down the NFL's most prolific offense since Drew Brees and Sean Payton joined forces in the Big Easy in 2006. Payton had been 56-5 in games when the Saints allowed 20 or fewer points, but Tampa Bay's defense was not going to be denied.
Not on this day, knowing a postseason berth is within sight if the Bucs keep taking care of business.
Attention Grabbers
People are taking notice of this defense around NFL circles.
"Mike Smith has the Bucs flying around," says NFL Network analyst Brian Billick. "They are very much for real."
NBC analyst Rodney Harrison can't believe what he's seeing.
"All of a sudden, they look like a top-five defense," he said. "What happened?"
What happened is a case of personal pride taking over, with coaches and players meeting for several days to resurrect a defense in shambles.
"Yeah, all of us were pissed about that Atlanta game," said Lavonte David. "We had guys running all over the place and the Falcons had people open all day long. We beat ourselves, and we said that's not going to happen around here anymore. And as we knew, Coach Smith knows what he's doing."
What he's doing is remarkable.
During this five-game winning streak, the Bucs rank No. 1 in the league in fewest points allowed per game (12.8), takeaways (14) and lowest opposing passer rating (62.5).
"Our defense is playing with a lot of swag," says Mike Evans.
According to Smith, whose chances for another head coaching job are growing exponentially by the week, those frank discussions following the Atlanta debacle allowed all sides to weigh in.
"We had an opportunity to hear the players talk … and we listened very closely," he said. "This is a great group of guys and we never lost faith in them as a coaching staff, but it takes time. We've got a brotherhood going here in Tampa."
Stage Set
Now it's on to Dallas for a nationally televised evening matchup against the NFC's top playoff seed. The Cowboys boast the league's premier offensive line, but the Giants just showed everyone how to corral a potent attack.
"We're just flying around," says Brent Grimes, "and when you know where you should be, you play faster."
Sunday's decision marked only the second time during the Brees/Payton era that the Saints were held without a touchdown. New Orleans had three cracks at Tampa Bay in the fourth quarter with the game in the balance and came away with two turnovers and a punt.
That continues an incredible pattern of late success for the Bucs, who own a 28-7 scoring advantage in the fourth quarter during this five-game surge.
"We're practicing the way we play, and it shows," said William Gholston." We got after a Hall of Fame quarterback — and did you hear our crowd?"
With three weeks left in the regular season, Tampa Bay's dynamic defense has emerged as a major story line. Rodney Harrison wants to know what happened.
So does Drew Brees.