Ring Of Dishonor
December 30th, 2016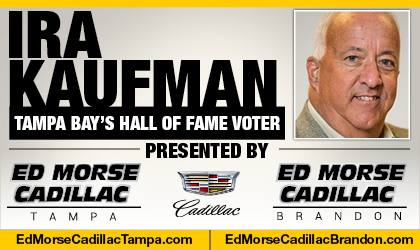 BY IRA KAUFMAN
C'mon down, Mr. Martin, and join your Buccaneer brothers in the Ring of Dishonor.
By earning a four-game suspension, Martin is now part of an infamous group of Tampa Bay players known for making the wrong kinds of headlines since the 2002 Bucs reached the NFL summit.
The ensuing 14 years have been marked by a lot of losing and a lot of poor choices, both on and off the field.
It didn't take long after that Super Bowl victory for the Bucs to catch the attention of Tampa Bay law enforcement. Safety Dwight Smith was popped on a 2003 felony charge of aggravated assault with a firearm after a road rage incident.
Sadly, the hits just kept on coming.
David Boston was cut after DUI charges.
Geno Hayes was jailed on disorderly conduct and trespassing charges after a nightclub dispute.
Jermaine Phillips was arrested for allegedly choking his wife.
Jerramy Stevens was arrested on a charge of possessing large quantities of marijuana.
A DUI allegation found Mike Williams.
Ahmad Black was cited for marijuana.
Who can forget former Bucs safety Tanard Jackson, ruining a promising career with a series of awful decisions?
Jackson was suspended twice as a Buccaneer for violating the league's substance-abuse policy. Given a second chance in Washington, Jackson was suspended two more times before he found himself out of the league at the age of 28 — when he should have been in his prime.
Da'Quan Bowers, who couldn't generate many headlines as a player, joined the party when he was arrested for illegally carrying a handgun at LaGuardia Airport.
Talented knucklehead Aqib Talib kept the Tampa Bay media busy with his exploits all over town.
Besides earning a four-game suspension for violating NFL policy regarding performance-enhancing substances, Talib got into an altercation with a St. Petersburg cab driver.
Returning home to Texas, Talib was arrested for aggravated assault with a deadly weapon.
The Bucs secondary has generated more than its share of infamy.
In the same year, safety Cody Grimm was arrested for public intoxication and corner Eric Wright was arrested on suspicion of DUI.
Josh Freeman deserves a chapter of his own in Buc lore, fined repeatedly for missing team meetings before word spread that he was enrolled in an NFL drug program.
Far-reaching consequences
There's been no signs of abatement.
Akeem Spence was suspended for the 2015 season opener following his arrest for possession of marijuana.
Kwon Alexander was suspended for the final four games last season for violating the NFL's policy on performance-enhancing substances. Jude Adjei-Barimah matched that this year.
Austin Seferian-Jenkins got his walking papers this September after a DUI arrest.
And there have been others.
Yes, it could have been worse. We could have had a Ray Rice or Greg Hardy situation on our hands here in Tampa.
Still, these cases show weakness by Buc players who let down their teammates, coaches and fans.
Before we pin a medal on Doug Martin for owning up to his failings, let's remember that his poor decisions had far-reaching consequences for this franchise.
Martin won't be the last Buc to enter the Ring of Dishonor. It's a club no one wants to join, but its ranks are sure to swell as long as there are police blotters and random drug tests.