Beware Of The Flex-Game Block
December 2nd, 2016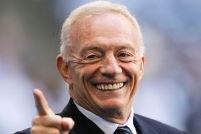 It's been widely reported across the nation that the Bucs-Cowboys 1 o'clock game in Dallas on Sunday, Dec. 18, is sure to be flexed to an 8:15 p.m. start on NBC.
But there is a looming wrench in the plan.
On SiriusXM NFL Radio yesterday, host Pat Kirwan was joined by guest co-host John Clayton, "The Professor" of BSPN. Clayton talked about that game getting flexed to NBC, and Kirwan shut down Clayton quickly.
Kirwan, who works for CBS, among his many other gigs, explained there's a rule between the NFL and networks that provides networks the opportunity to keep a game it doesn't want flexed away.
It's complicated, Kirwan said, but he believes FOX likely would exercise its flex-blocking mechanism for that Bucs-Dallas game because of the intense interest in the Cowboys, and for what could be a critical NFC game if the Bucs beat San Diego on Sunday.
Man, Joe wants that game bumped to prime time on NBC so desperately. What an amazing night that would be for the Tampa Bay area sports scene, assuming the Bucs don't get seal-clubbed at Jerry's World.
The NFL deadline is Tuesday for announcing what game, if any, is flexed on Dec. 18.