Aguayo Begging To Be Cut
December 4th, 2016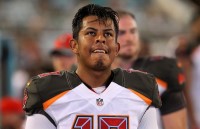 Another critical miss today by Roberto Aguayo, who, after a brief rally, appears to again be the worst kicker in the NFL.
Aguayo missed a 31-yard field goal today in San Diego, a critical shot just before halftime with the Bucs trailing by seven. TV cameras showed the frustration on the face of Dirk Koetter and the extreme distress reaction by America's Quarterback, Jameis Winston.
Aguayo is now 15-of-22 through 12 games. He's also missed two extra points.
His longest field goal? 43 yards. Yes, forty-three!
Joe wonders how long it might take for Koetter to march into Jason Licht's office and wave the white flag on Aguayo.
Do not look for it to happen this season, but if Aguayo can't straighten out in the final four games — or in the playoffs — then why would any sane thinker believe he can show up and get the job done next year?
This is a playoff-caliber football team. They deserve — and the fans deserve — a good kicker.