A Tackling Referendum
December 16th, 2016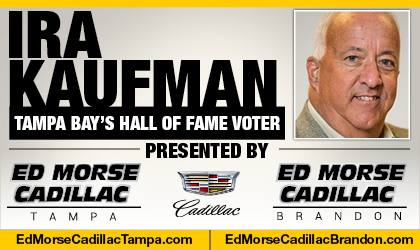 Tampa Bay's only Pro Football Hall of Voter, eye-RAH! Kaufman, pens columns every Monday, Wednesday and Friday at JoeBucsFan.com world headquarters. And Ira's stunning podcasts appear Tuesdays and Thursdays.
Today, Ira goes inside the most anticipated Bucs game in years, Bucs at Dallas on Sunday Night Football.
BY IRA KAUFMAN
Make the kid beat you.
That's my defensive mantra for the Bucs as they head into Big D Sunday evening for a highly anticipated flexed matchup that should dominate our local airwaves.
Al Michaels and Cris Collinsworth will focus much of their commentary on the action in the trenches, because that's where this game will be won or lost.
You don't need an MIT degree to realize the strength of the favored Cowboys rests with an imposing offensive line that featured three Pro Bowlers last season — left tackle Tyron Smith, center Travis Frederick and right guard Zach Martin.
All three standouts were drafted in the first round within a 4-year span and their collective skills have been instrumental in helping quarterback Dak Prescott and running back Ezekiel Elliott turn in stellar rookie seasons.
Dallas is the only team in the NFL with more rushing attempts (416) than passing attempts (397), easing Prescott's burden. The Cowboys average 4.8 yards per carry and Tampa Bay's rush defense has been merely adequate, so it's time to load up the box and trust an emerging secondary to handle Dez Bryant and company.
If the Bucs don't neutralize Elliott, they'll be in for a long night, with Jameis Winston stewing on the sidelines while the Cowboys move the chains and churn the clock.
"They're as good as advertised up front," says Bucs defensive tackle Clinton McDonald. "That's one of the biggest and best offensive lines in the league. They work well together, they're physical, and it shows on the field. Your running game opens up things for your passing game … that's been true in football since Day 1."
Prescott will open the game haunted by the specter of Tony Romo gaining on him with each errant throw. Prescott played poorly last week against the Giants, finally looking like a rookie, and it won't take much prodding for thousands of Romo supporters to make their feelings known.
Rather loudly.
Marpet Puts His Foot Down
The Cowboys just lost the trench battle in the Meadowlands and a key member of Tampa Bay's offensive line intends to make that a trend.
"There's no question they have a very talented offensive line," said second-year right guard Ali Marpet. "They've got a good line. But I also think we have a very physical, tough offensive line. It's our goal to be the best offensive line in the league. We're striving for a physical approach that sets the tone Sunday night."
The offensive struggles of the Cowboys can be boiled down to one simple, rather hard to believe, statistic: in the past two weeks, Dallas has converted 2-of-24 on third down.
For a club built to create manageable third-down situations, that ratio is unfathomable.
"It's such an important part of the game, being able to convert third downs and being able to win in short yardage and goal line," says Dallas coach Jason Garrett. "We pride ourselves on being a physical football team, that's how we're built. It starts with those guys up front and they do a great job controlling the line of scrimmage."
Different Hurdle
This game will serve as a referendum on Tampa Bay's tackling skills and willingness to swarm to the football. Elliott can scamper around you or power through you and he leads the league with 11 runs of at least 20 yards.
Job 1 for Mike Smith's defense is to keep him in check.
If Prescott throws more than 30 passes, the Cowboys are in trouble. But until the Bucs can prove they are stout against the run, Prescott will pass when he wants to, not when he has to.
The Dallas offensive line gets a lot of ink, much of it deserved. It's an exceptional unit and a heck of a challenge for a Tampa Bay defense that is surging with pride and confidence.
Here's another hurdle, a test of resolve for a group that just held the Saints without a touchdown for only the second time in the Drew Brees era. This job's different. This one is about gap control and evicting a bully from the house that Jerry built.
"Can the Tampa Bay Buccaneers come out and play assignment football?" McDonald asks. "With all due respect to the Dallas Cowboys, this game is about us."