"Two Guys Were Thinking It Was A Different Play"
November 7th, 2016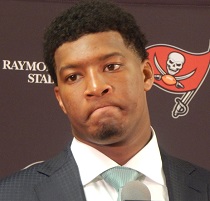 America's Quarterback, Jameis Winston, had a hand in two key fumbles against the Falcons on Thursday.
It's great Jameis has stopped throwing picks, but the fumbles are every bit as bad.
The crushing, early-first-half fumble was the result of a botched handoff between now-injured running back Antone Smith and Jameis.
Today, Dirk Koetter appeared to lay blame at the feet of his QB.
Asked about Jameis impressively cutting his interceptions to just one in the last four games, Koetter responded with chatter about the fumbles.
"We had the two fumbles, two fumbles that resulted in six points," Koetter said. "Again, the D did a good job in those sudden-change situations. But we can't, you know, we fumbled it once on the quarterback sneak, and we fumbled it another one just on a handoff mesh when we had bad communication. The two guys were thinking it was a different play. And that's not going to work."
Hopefully, these are just more growing pains/learning experiences for Jameis, though Joe does not expect Koetter to call a short-yardage sneak for Jameis again anytime soon.