TV Map For Seahawks-Bucs
November 26th, 2016
It's that time of the week to find out if you must get a designated driver tomorrow.
The Bucs host the Seahawks. Who can watch it free? Joe has answers.
Joe is surprised by the reach of this FOX game. A large swath of the country will be treated to the Seahawks-Bucs game on their local FOX affiliate Sunday at 4 p.m. EST. Of course, anyone with NFL Sunday Ticket, the greatest invention since the beer bottle opener, can access the game as well.
As always, TV map courtesy of the506.com.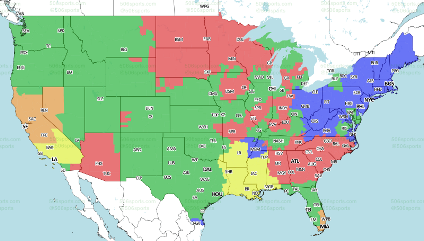 Green: Seattle @ Tampa Bay.
Yellow: Los Angeles @ New Orleans.
Red: Arizona @ Atlanta.
Blue: NY Giants @ Cleveland.
Orange: San Francisco @ Miami.
Gray: No game.