Report: Doug Martin Will Be Active Vs. Bears
November 12th, 2016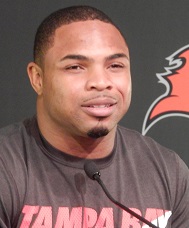 Wash those No. 22 jerseys.
Put on that Muscle Hamster underwear.
Greg Auman of the Tampa Bay Times is Twittering that Doug Martin will be active and ready for duty against the Bears tomorrow, citing an unnamed source.
So the Bucs will have their starting defensive line back in full, as Joe wrote earlier, and now Martin.
If Martin's back, per Dirk Koetter's past explanations on availability, then Martin must be ready to carry the load.
Joe thinks it's reasonable to think the Bucs are targeting Martin for a dozen carries, with Mike James getting plenty of third down work based on his experience in the offense.
Not a lot of excuses left for the Bucs against a 2-6 Bears club.