Playoff Talk Surrounds Bears
November 10th, 2016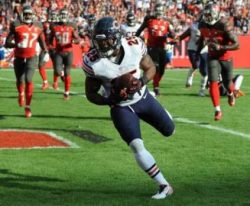 This post is not a joke.
And it casts an eerie cloud over the stadium on Dale Mabry Highway. 
It seems there's rampant optimism in Chicago for the Bears (2-6). In fact, you can watch this panel discussion on CSN Chicago focusing on whether the Bears could be a playoff team — this season!
Seriously. There's even a fan poll rolling on the screen and the vast majority think the Bears could finish with nine wins.
Damn, this kind of chatter from fans and media would not surround the current Buccaneers.
Most of the Bears' hope lies in the fact they beat the Lions and Packers and have an emerging defense that's getting healthy in a hurry.
The oddsmakers in Chicago have the Bears as a one-point favorite Sunday at the Den of Depression.
What the hell is going on here?