"Leaps And Bounds Better"
November 18th, 2016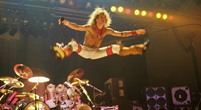 The sudden surge of sacks and quarterback pressure from the Bucs is a strange thing for Bucs fans to watch.
The way this team has been starved for sacks for so many years, Joe can pardon Bucs fans for being suspicious this is really some sort of a trend.
But to hear the words of Bucs defensive coordinator Mike Smith, pressuring the quarterback could be a real thing around these parts. Yes, really.
"When we covered well, the quarterback had to hold the ball and had to move and when we got him on the move, we were able to either get him on the ground or we had a couple of turnovers in those situations," Smith said. "I do think that the guys had a much better understanding of what we were trying to get accomplished. Our communication was leaps and bounds better than what it's been in the previous games. So, we're starting to see some progress in that area."
Interesting thing about Smith's comment is the secondary coverage made bratty Jay Cutler hold the ball longer, thus giving defensive linemen more time to get to him.
Mind you, the Bears have good receivers. If the Bucs were able to contain them like that, it bodes well for the future.