Grimes Back On The Field
November 24th, 2016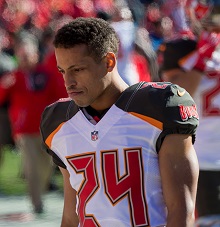 Have another heap of stuffing, Bucs fans.
Rick Stroud of the Tampa Bay Times has Twittered word that injured cornerback Brent Grimes made an appearance on the practice field this morning.
Great news after Grimes was knocked out early Sunday after forcing a fumble in Kansas City.
NFL superwife Miko Grimes had Twittered after the game that Grimes had a thigh "contusion," aka bad bruise. So Grimes' return is hardly a shock.
This should ease the pain, at least a little, of losing nickel cornerback Hey Jude Adjei-Barimah to banned substances.