Did Glennon Earn A Stronger Offer?
November 6th, 2016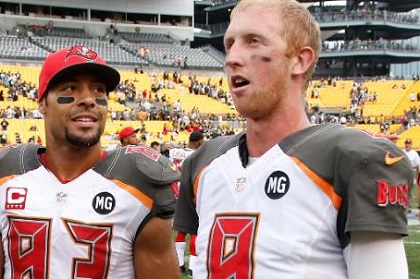 Joe must give it up to Mike Glennon for his production Thursday.
The Falcons blitzed him in garbage time, ran stunts and the former "quarterback of the future" was literally perfect after not throwing a regular season pass since 2014.
The box score says Glennon was 10-for-11 with a touchdown throw. That one incompletion? An undisputed drop by Peyton Barber.
Glennon's job as a professional backup is to be ready, and he was flawless. He was commanding, prepared and accurate.
Joe's been told that the Bucs have talked to Glennon about signing a contract extension to be the long-term backup to America's Quarterback, Jameis Winston. Word on the street is Glennon said he'd rather test the free-agent market after the season ends. Glennon's rookie contract expires in March.
Joe thinks Glennon might have earned himself a fresh offer from the Bucs.
It should be clear to management that Jameis' style of play makes him more likely than most to suffer a significant injury. Combine that with Jameis taking more hits than any other QB since he entered the NFL, and Dirk Koetter's disinterest in sitting Jameis unless he can't walk, and you've got a real reason to throw excellent backup money at Glennon right now.
Glennon, 26, is a smart dude with a Master's degree, and he's got a new baby and lives in Tampa.
Soaking in $12 million+ to backup Jameis for a few years is a comfortable lottery ticket worth cashing — and offering.