Football Gods Aligning In Kansas City
November 19th, 2016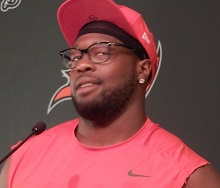 Consider the opening sentence in a beautiful and fresh story in the Kansas City Star. 
That's a newspaper, for those of you unfamiliar with that dying, 20th-century dinosaur.
"The Chiefs could potentially be without a number of starters for their home game Sunday against the Tampa Bay Buccaneers."
The Chiefs, who face the Bucs tomorrow, already have declared stud wide receiver Jeremy Maclin is out. Defensive tackle Jaye Howard, a key figure in their defensive line rotation, is doubtful and hasn't practiced this week.
The guy who might be the best cornerback in football, Pro Bowler Marcus Peters, the Chiefs' first-round pick last year, has a hip injury that's kept him off the practice field this week. Even if he goes, maybe the football gods will cut his explosiveness just enough to let Mike Evans dominate.
Yesterday on SiriusXM NFL Radio, Dirk Koetter talked about the possible "lethal" return tomorrow of sackmaster Justin Houston when paired with 10-sack man Dee Ford. But Houston has missed all season after knee surgery.
This isn't like Jason Pierre-Paul returning against the Bucs last year. There was no worry that JPP would be missing the juice from his legs. Houston has to be a little rusty — right? — if he does even return.
It's Week 11 in the NFL and teams are banged up. The Bucs, though, are very healthy by comparison. Their entire starting defense is ready to go. They've got healthy depth players, too.
With Doug Martin back and looking sharp in practice, the Bucs should have enough to move some chains.
Maybe, just maybe, it's ok to dream about stealing this one and seeing the Bucs in the national spotlight with a 5-5 record alone in second place.