Cameron Brate: "I Support Mike"
November 14th, 2016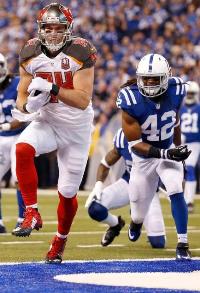 Mike Evans' has a teammate speaking out nationally in support of his public and now famous protest of Donald Trump's election victory.
For those who missed it, Evans sat on the Bucs bench during the National Anthem before yesterday's Bucs-Bears game. After the game, Evans explained he was only protesting Trump's victory and only Ashton Kutcher can get him to stop.
On NBC Sports Radio this morning, PFT Live host Mike Florio celebrated Brate's huge game against the Bears — seven catches on seven targets and a touchdown. Florio also wanted to know if Evans' actions took Brate by surprise.
"I was a little surprised yesterday, to be honest," Brate said of Evans' public protest yesterday.

"But I support Mike. I was at his wedding in the offseason. Mike is one of my good friends. So part of me knew it was coming. You have to respect his opinion. I'm not going to comment on how I feel about the situation, but I stand with Mike. It's tricky. It's a tricky situation, you know, to be in. But I stand with my teammate."
This could be a great time to drop a Make America Brate again reference, as many Bucs fans have this season for the tight end with the most touchdown catches in the NFL. But maybe not.