Licht Talks About Quest For "The Right 53"
November 25th, 2016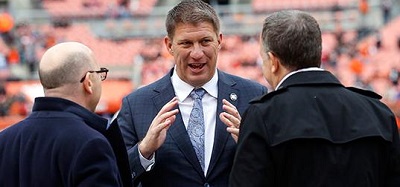 There's been a notable fearlessness to the Jason Licht regime since it got off the ground.
It's been obvious. Just look at the collective array of bold moves.
Joe only wishes Licht was more fearless the first time Lovie Smith advised Licht that career loser Josh McCown would be the hand-picked quarterback to lead the franchise to the promised land, and that Darrelle Revis was getting the boot.
But those mind-numbing calls aside, Joe loves how Licht has been daring in free agency and in the draft — and how he is unafraid to stick to gutsy plans.
The mere fact Licht didn't pull the trigger in free agency on one offensive lineman after the dreadful 2014 season was stunning. But there was Licht, patient and confident he would land Donovan Smith and Ali Marpet in the draft, the team's top pre-draft targets at O-line. Those picks were followed up by summer, off-the-street signings of Joe Hawley and Gosder Cherilus.
Now look at the Bucs' O-line.
Licht discussed building the Bucs this week with Albert Breer of TheMMQB.com in advance of Tampa Bay facing what could be a franchise-crossroads game Sunday against Seattle.
"Seattle's a team we try to emulate," Licht said from his office on Tuesday morning. "They pull every lever. And during their rebuild, they were still focused on winning, like we are now. … They realize you can't bat 1.000 but they're not afraid to take chances."
NFL fans paying attention know that not every team is "focused on winning," as it looks to climb out of the NFL cellar. Even when they say they are, they aren't.
Licht is — and was.
Ideal Blend
Joe thinks this is why Team Glazer, Dirk Koetter and Licht are a great trio. All three have a healthy level of impatience.
Team Glazer has operated since 2012 with a win-now mentality, and Team Glazer has possessed a fearlessness unique in NFL circles since the day it bid to buy the Bucs.
Dirk Koetter took the head coaching gig telling everyone who would listen that he was an old guy getting his one shot and the only no-excuses plan was to win in a hurry with the players Licht gives him.
Licht was the guy who, in 2014, told Bucs fans it wasn't fair to ask them to be patient while the team was rebuilding.
Old Message, New Prophet
Licht explained to Breer that it's all about the quest for "the right 53," a theme he saw pulsing through the Patriots when he was Bill Belicheat's right-hand man in personnel matters.
"A lot of it is the quarterback, his message and what he's put out there—it's family," said Licht. "He breaks down every huddle in practice, it's 'family on 3.' And those teams in Philly and Arizona—New England's just a machine—they had that togetherness, all fighting for the same thing. The quarterback says it a lot, if one of us is failing, you have 10 brothers to pick you up. In the locker room, you feel it.

"I know it's cliché, but unity is a powerful thing. They said this in New England all the time, it was engrained by Belichick—it's not the best 53, it's the right 53. We're starting to figure out what the right 53 is. It's evolving that way."
Joe gets the family stuff, and that's a critical mentality to foster NFL over-achievement. Hopefully, it's legitimate on these Buccaneers. With America's Quarterback, Jameis Winston, as the lead prophet, and candid Koetter being honest with players, the Bucs have a shot at building something lasting.
We all remember what happened the last time Buccaneers all wore "F.A.M.I.L.Y" bracelets and broke huddles with "family on 3" chants.